DMSP (Defense Meteorological Satellite Program)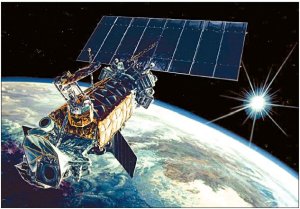 DMSP (Defense Meteorological Satellite Program) is the sixth generation of United States military weather satellites. The DMSP 5D-2 satellites operate in two constellations from orbits about 800 km high to supply worldwide meteorological, oceanographic, and solar-terrestrial physics measurements on a twice-daily basis. Their visible and infrared sensors collect images of global cloud distribution across a 3,000-km swath, under both daytime and nighttime conditions. The coverage of the microwave imager and sounders are one-half that of the visible and IR sensors, covering the polar regions above 60° on a twice-daily basis but the equatorial region on a daily basis. The space environmental sensors record along-track plasma densities, velocities, composition, and drifts. The first joined five earlier generation DMSPs still in operation and the launch of eight more is planned through 2006.
Features
Two primary operational DMSP satellites are in polar orbits at about 450 nautical miles (nominal) at all times. The primary weather sensor on DMSP is the Operational Linescan System, which provides continuous visual and infrared imagery of cloud cover over an area 16,000 nautical mi wide. Global coverage of weather features is accomplished every 14 hours providing essential data over data-sparse or data-denied areas. Additional satellite sensors measure atmospheric vertical profiles of moisture and temperature. Military weather forecasters can detect developing patterns of weather and track existing weather systems over remote areas, including the presence of severe thunderstorms and hurricanes.
The DMSP satellites also measure space environmental parameters such as local charged particles and electromagnetic fields to assess the impact of the ionosphere on ballistic-missile early warning radar systems and long-range communications. Additionally, these data are used to monitor global auroral activity and to predict the effects of the space environment on satellite operations.
Background
Tracking stations at New Boston Air Force Station, NH, Thule Air Base, Greenland, Fairbanks, Alaska, and Kaena Point, Hawaii, receive DMSP data and electronically transfer them to the Air Force Weather Agency at Offutt Air Force Base, Neb. Tactical units with special equipment can also receive data directly from the satellites.
In May 1994, the President directed the Departments of Defense and Commerce to converge their separate polar-orbiting weather satellite programs. A tri-agency organization (DOC, DOD and NASA) was formed. The tri-agency is working towards the development and acquisition of the National Polar-orbiting Operational Environmental Satellite System to meet the environmental monitoring needs of all three agencies and serve as the follow-on system to DMSP.
As part of convergence plan, DMSP operations were transferred from the Defense Department to the Commerce Department in Jun 1998, with funding responsibility remaining with the Air Force. Satellite operations were moved to Suitland, MD, where the National Oceanic and Atmospheric Administration's Office of Satellite Operations provides the command, control and communications for both DMSP and DOC's Polar-orbiting Operational Environmental Satellite system. DMSP continues to provide assured, secure, global environmental sensing data to support the warfighter.
The Space and Missile Systems Center at Los Angeles AFB, Calif., is responsible for development and acquisition of DMSP systems.