Diamant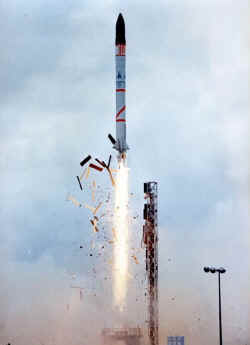 Diamant was a series of French three-stage launch vehicles developed by CNES (the French space agency) from a family of sounding rockets and flown from 1965 to 1975. The first stage was liquid-fueled; the upper two stages used solid propellant.
Diamant ('diamond') A reached orbit at the first attempt in November 1965 carrying the Asterix (A-1) satellite. Three further flights in 1966–1967, all from Hammaguira in the Sahara, launched the D1 geodesy satellites, including the twin Diadèmes and Diapason. Diamant B, with its lengthened first stage and, in the case of the later B4 variant, a modified second stage, launched nine times (including two failures) and placed DIAL-WIKA and -MIKA, Peole, Tournesol, and several other satellites in orbit. All Diamant B launches were from the Guiana Space Centre – the site now used by ESA (European Space Agency).

After 1975 France stopped its sounding rocket and national launcher programs to concentrate on developing the European Ariane launcher.
| | | |
| --- | --- | --- |
| | Diamant A | Diamant B / B4 |
| total length | 18.9 m | 23.5 / 21.6 m |
| maximum diameter | 1.4 m | 1.4 m |
| thrust (N) | | |
| first stage | 269,000 | 316,000 |
| second stage | 156,000 | 156,000 / 180,000 |
| third stage | 27,000 | 50,000 |