exoskeleton
The exoskeleton in a crustacean is hardened by the deposition of calcium salts, As a result most crustaceans, such as the crayfish, have very through shells consisting mostly of a cuticle (1) secreted by the epidermis. Special glands (2) in the connective tissue secrete the waterproof epicuticle. Epidermal bristles (3) detect various stimuli.
An exoskeleton is an external, often hard, covering or integument that provides support and protection to the body of certain animals, notably arthropods and molluscs. In arthropods, it consists of a thick horny covering attached to the outside of the body and may be jointed and flexible. The exoskeleton does not grow as the animal grows; instead it is shed periodically and the animal generates a new one. See also endoskeleton.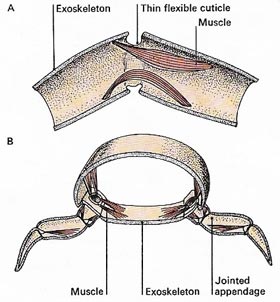 The support of muscles for movement is a major function of the exoskeleton. The muscles are attached across a joint (A), as in vertebrates, but inside the skeleton. The contraction of one muscle of a pair and relaxing the other results in movement at the flexible joint. A cross-section through the body at a leg insertion (B) shows the part played by muscle attachment points and by the thin flexible cuticle at joints.
---