Glenn, John Herschel, Jr. (1921–2016)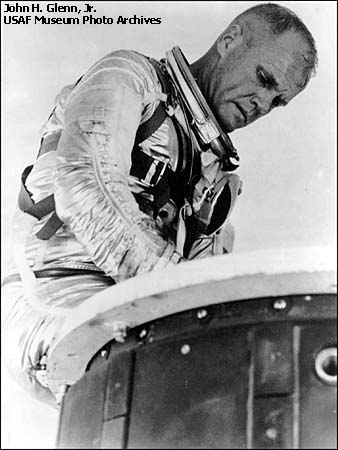 John Glenn was one of the original Mercury Seven astronauts and the first American to orbit the Earth who, decades later, became the oldest human ever to travel in space.


Glenn enlisted in the Naval Aviation Cadet Program shortly after Pearl Harbor and was commissioned in the Marine Corps in 1943. He subsequently served in combat in the South Pacific and in the Korean conflict, flying 149 missions in the two wars and received many honors, including the Distinguished Flying Cross (on six occasions) and the Air Medal with 18 clusters. For several years Glenn was a test pilot on Navy and Marine Corps jet fighters and attack aircraft, setting a transcontinental speed record in 1957 for the first flight to average supersonic speeds from Los Angeles to New York. In 1959 he was selected to be one of the first seven astronauts in the American space program. Three years later, on February 20, 1962, he made history aboard Friendship 7 as the first American to orbit the Earth, completing three orbits in a five-hour flight.

Glenn retired from NASA in 1964 and from the Marine Corps in 1965, entering politics and, in 1974, winning a seat in the Senate as a representative of Ohio. To this position he was elected in 1992 for a record consecutive fourth term. Glenn made history again when, at the age of 77 he flew as a payload specialist on the crew of the Space Shuttle mission STS-95. NASA's John H. Glenn Research Center at Lewis Field has been named in his honor.