Gloster E.28/39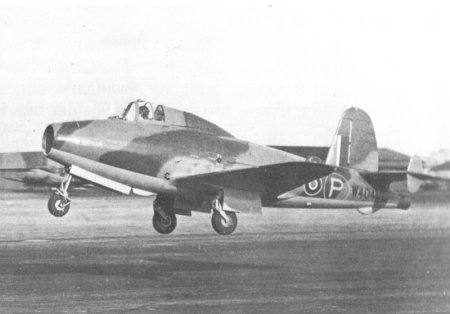 The Gloster E.28/39 was Britain's first jet-propelled aircraft; also known as the Gloster Pioneer, Gloster Whittle, and Gloster G.40. It was built in 1940 at the Gloster aircraft company by a team led by W. G. Carter, to meet a specification known as E.28/39 (the 28th "Experimental" specification issued by the Air Ministry in 1939), with the primary objective of test flying a variety of turbojet engines developed by Frank Whittle. The possibility was envisaged of the aircraft going into production a night fighter. In the event this didn't happen, although experience gained with the E.28/39 proved valuable in the development of Britain's first operational jet fighter, the Gloster Meteor.
Two prototypes of the Gloster E.28/39 were built. The first (W4041) was equipped with a W.1 engine and made its maiden flight on May 15, 1941. The second (W4046) was propelled by a somewhat more powerful Rover-built W.2B turbojet and first flew on March 1, 1943. Other engines were fitted subsequently to both prototypes. The W4041 prototype survived the war (and is now on display in the Science Museum in London) but the W4046 was lost on July 30, 1943, after entering an inverted spin (the test pilot successfully bailed out).
The Gloster E.28/39 was preceded by the German Heinkel 178 – the first aircraft to fly under jet power.
| | |
| --- | --- |
| Length | 7.71 m (25 ft 3.75 in) |
| Wingspan | 8.84 m (29 ft 4 in) |
| Height | 2.70 m (8 ft 10 in) |
| Wing area | 13.6 m2 (146 ft2) |
| Empty weight | 1,309 kg (2,886 lb) |
| Max. takeoff weight | 1,699 kg (3,748 lb) |
| Engine | Power Jets W.1 turbojet, 860 lb.ft (3.8 kN) |
| Max. speed (at 10,000 ft) | 749 km/h (466 mph) |