Heinkel He 178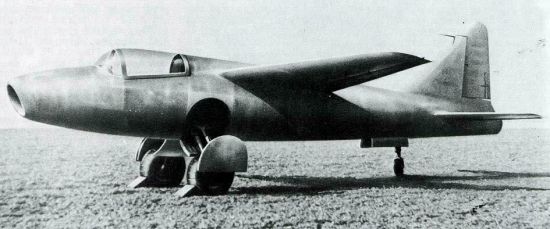 The Heinkel He 178 was the world's first jet aircraft. The He 178 was built by the German Heinkel company specifically to test fly a pioneering turbojet engine designed by Hans von Ohain. Piloted by Luftwaffe Captain Erich Warsitz, it made its first flight on 27 August 1939, one week before the outbreak of World War II, having achieved a short hop three days earlier.
The He 178 had a barrel-shaped metal fuselage, with stubby wooden wings mounted high on its sides. The aircraft utilized the conventional three-point retractable landing gear, rather than the tricycle configuration which was later adopted for other jets.
The He 178 went on to reach a maximum speed of 650 km/h (403 mph) – much faster than any piston-engined aircraft of the day. But despite its success, it failed to convince officials from the Reichsluftfahrtministerium ("Reich Aviation Ministry") that it was worthy of further development. Undeterred, Ernst Heinkel led his company in a private development of a twin-engined jet fighter, the He 280, using experience and data gained from the He 178.
The He 178 was placed in the Deutsches Technikmuseum ("German Technical Museum") in Berlin, where it was destroyed in an air raid in 1943.
| | |
| --- | --- |
| length | 7.48 m (24 ft 6 in) |
| wingspan | 7.20 m (23 ft 3 in) |
| height | 2.10 m (6 ft 10 in) |
| wing area | 9.1 m2 (98 ft2) |
| empty weight | 1,620 kg (3,572 lb) |
| max takeoff weight | 1,998 kg (4,405 lb) |
| engine | 1 HeS 3 turbojet, 4.4 kN (992 lbf) |