Von Ohain, Hans Joachim Pabst (1911–1998)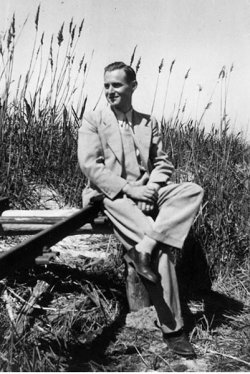 Hans von Ohain was a German physicist who designed the first operational jet engine. He was not, however, the first to invent the jet engine. That distinction belongs to the Englishman Frank Whittle, who registered a patent for the turbojet engine in 1930, although Whittle's engine did not perform a flight test until 1941.
Von Ohain was born in Dessau, Germany. He formulated his theory of jet propulsion in 1933 while pursuing a doctorate in physics at the University of Göttingen. After receiving his degree in 1935, he became a junior assistant to Robert Wichard Pohl, director of the university's Physical Institute.
Ohain was granted a patent for his turbojet engine in 1936 and also joined the Heinkel Company in Rostock, Germany. By September 1937 he had built a factory-tested demonstration engine and by 1939, a fully operational jet aircraft, the Heinkel 178. Soon after, Ohain directed the construction of the He S.3B, the first fully operational centrifugal-flow turbojet engine. This engine was installed in the He 178 airplane, which made the world's first jet-powered aircraft flight on August 27, 1939.
Ohain developed an improved engine, the He S.8A, which was first flown on April 2, 1941. This engine design, however, was less efficient than one designed by Anselm Franz, which powered the Messerschmitt 262, the first operational jet fighter aircraft.
Ohain came to the United States in 1947 and became a research scientist at Wright-Patterson Air Force Base. In September 1963, he was appointed chief scientist of the Aerospace Research Laboratories. In 1975, he became chief scientist of Wright's Aero Propulsion Laboratory, where he was responsible for maintaining the technical quality of research in air-breathing propulsion, power, and petrochemicals. After retiring in 1979, he became a consultant to the University of Dayton Research Institute.
During his 32 years of US government service, Ohain published more than 30 technical papers and registered 19 US patents. His many honors and awards included the Goddard Award of the American Institute of Aeronautics and Astronautics, the Air Force Systems Command Award for Meritorious Civilian Service, and the Department of Defense Distinguished Civilian Service Award. He was enshrined in the International Aerospace Hall of Fame and the Engineering and Sciences Hall of Fame, and in 1990, in the National Aviation Hall of Fame. In 1991 Ohain was honored by the US National Academy of Engineering with the Charles Stark Draper Prize as a pioneer of the jet age.
Ohain died on 13 March 1998, at his home in Melbourne, Florida.