garnet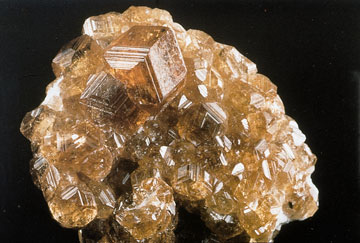 Garnet. Credit: Mineral Information Institute.
Garnets comprise two series of common orthosilicate minerals: the pyralspite series and the ugradite series. It has the general formula MII3MIII2(SiO4)3, having six end-members.
Garnet is found in metamorphic rocks and pegmatites as cubic crystals, rounded grains and granular masses. It is brittle, glassy, and occurs in many hues; some varieties (particularly the red form) are important as gemstones. Being hard it is also used as an abrasive. Hardness 6.5–7.5, relative density 4. It is popularly the birthstone for January.