Hayashi, Chushiro (1920–2010)
Chushiro Hayashi was a Japanese astrophysicist at Kyoto University who did important work on the early evolution of stars and of the universe. In 1950 he was the first to offer a variant of the hot Big Bang model as put forward in 1946 by George Gamow and colleagues in the famous "Alpher-Bethe-Gamow" theory. He is best remembered, however, for his discovery of the almost temperature-independent early evolution of pre-main-sequence stars along what has become known as the Hayashi track (see below).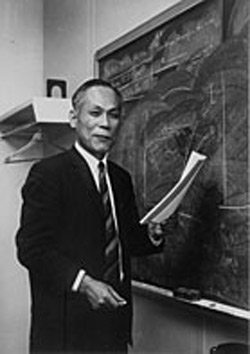 Chushiro Hayashi
---
Hayashi track
The Hayashi track is a nearly vertical path of stellar evolution on the Hertzsprung-Russell diagram down which an infant star progresses on its way to the main sequence. While on the Hayashi track, a star is largely or completely in convective equilibrium. As it progresses, its luminosity, initially very high, decreases rapidly with contraction, but its surface temperature remains almost the same. The sequence runs in reverse for stars leaving the main sequence to become giants.