It Came From Outer Space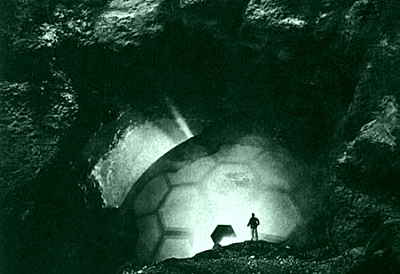 Alien spacecraft in It Came From Outer Space.
It Came From Outer Space is 1953 Universal science fiction film based on "The Meteor" by Ray Bradbury which exploits the theme of alien intervention and human duplication, popular during this era of paranoia (see Cold War, related to UFO reports). An astronomer living in the Arizona desert witnesses what he thinks is a meteorite fall only to find, upon investigation, that it is really a crashed spacecraft. The occupants turn out to be benign aliens with the power to take on human form. By shape-shifting, they make copies of local inhabitants to assist in repairs to their ship.
Bradbury's tale, written for the screen, was rewritten for the worse by Harry J. Essex. Moreover, the official credits fail to acknowledge Bradbury's primary role in the film.
Director: Jack Arnold
Producer: William Alland
Richard Carlson (John Putnam)
Barbara Rush (Ellen Fields)
Charlie Drake (Sheriff Matt Warren)
Russell Johnson (George)
Kathleen Hughes (Jane)
Joe Sawyer (Frank Daylon)
George Eldredge (Dr. Snell)
Runtime: 81 minutes