Mantell, Captain Thomas Francis Jr. (1922–1948)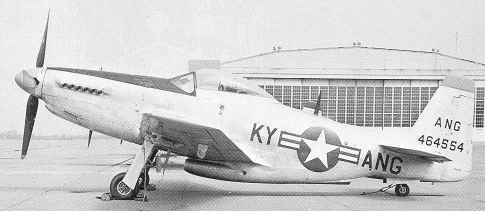 A P-51 Mustang of the Kentucky Air National Guard.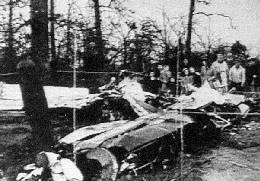 Thomas Mantell was the pilot of an P-51 Mustang fighter killed on January 7, 1948, while pursuing an unidentified flying object near Godman AFB, Kentucky. The object had previously been seen by numerous witnesses on the ground. At 15,000 ft, Mantell radioed the control tower that the UFO was "metallic and tremendous in size" and "appears to be moving about half my speed." Just after 5:00 pm, the wreckage of Mantell's plane was found, with the port wing, rear fuselage, and tail ripped off. His body was in the cockpit, and his watch had stopped at 3:18, which was taken as the time of impact. Crash investigators thought it most likely that Mantell had blacked out at about 25,000 ft, while his P-51 continued to 30,000 ft, lost power, leveled off, and then circled before going into a power dive.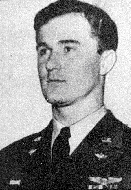 Thomas Mantell Jr.
---
The newly established Project Sign concluded that the UFO had been the planet Venus, which was in the right place to concur with the witnesses' reports from Godman. However, this theory failed to account for many other aspects of the case, including Mantell's reference to a very large, metallic object. A re-examination of the incident in the 1950s by Captain Edward Ruppelt1 came to the conclusion that what Mantell had really been chasing was a US Navy Skyhook balloon, probably launched from Camp Ripley, Minnesota (see Cold War, linked to UFO reports). However, the incident has never been conclusively explained.
Thomas Mantell Jr. was born in Franklin, Kentucky, June 30, 1922. He was a graduate of Male High School, in Louisville. On June 16, 1942, he joined the Army Air Corps, graduating Flight School on June 30, 1943. During World War II, Mantell was assigned to the 440th Troop Carrier Group, 96th Troop Carrier Squadron, 9th Air Force. He was awarded Distinguished Flying Cross, and Air Medal w/3OLCs for heroism. Following the war he returned to Louisville, joining the newly organized Kentucky Air National Guard, as Flight Leader, 'C' Flight, 165th Fighter Squadron, Kentucky Air National Guard on February 16, 1947.
Mantell is the first flight casualty of the Kentucky Air National Guard. His remains were brought back to Louisville and buried at Zachary Taylor National Cemetery. On September 29, 2001, the Simpson County Historical Society unveiled a historical marker in honor of Thomas F. Mantell, Jr. The marker is located at the Franklin, Kentucky exit off Interstate 65, next to the office building of Simpson County Tourism.