Post, Wiley Hardeman (1898–1935)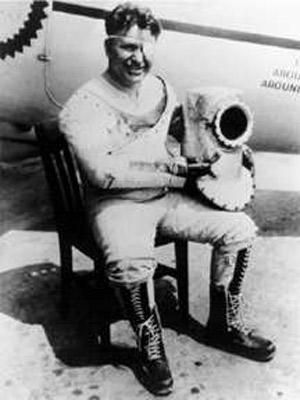 Wiley Post was a pioneering American aviator who was the first person to fly solo around the world. He also helped develop one of the first pressure suits. Post was born in Texas, but his family moved to Oklahoma while he was still a child. At the age of 27 he lost an eye in an oil-field accident and used the $1,800 settlement to buy his first airplane. Despite the loss of his depth-of-field vision, he became not only a champion air-racer but also an expert marksman and a ground-breaking inventor.
Post rose to national prominence on 27 August 1930, after winning the National Air Race Derby, from Los Angeles to Chicago, having covered the course in a record time of 9 hr 9 min and 4 sec in his plane the Winnia Mae, a special Lockheed Model 5C Vega. The following year, he made his first round-the-world with navigator Harold Getty in 8 days 15 hr 51 min. Two years later, on his second round-the-world flight, Post flew solo, landing at Bolling Field, Washington, DC after a trip lasting 7 days 18 hr 49 min – almost a day faster than his original flight.
In order to be able to test the ability of aircraft to fly in the jet stream, high up in the stratosphere, Post devised a pressure suit that could would allow him to survive and function for long periods at high altitudes. Post's suit was the precursor to today's spacesuits and modern pressure suits. On 15 March 1935, Post flew from Burbank, California, to Cleveland, a distance of 2,035 miles in 7 hr 19 min. The Winnie Mae, his beloved aircraft had attained ground speeds of 340 mph. During this trip, Post had sailed the jet stream and survived.
Post died, along with American humorist Will Rogers, in a plane crash near Point Barrow, Alaska, on 15 August 1935. He was one of three great American air adventurers during the 1930s, the others being Charles Lindbergh and Amelia Earhart.