Telstar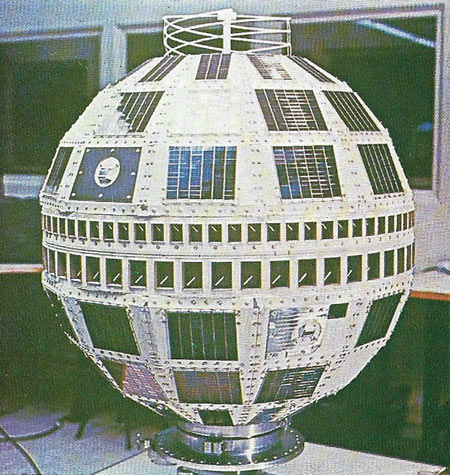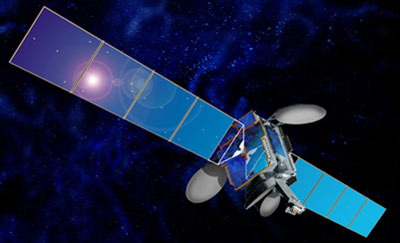 Telstar is a global network of communications satellites originally operated by AT&T Skynet, later Loral Skynet. Telstar 1 (Fig 1), owned by AT&T and flown by NASA, was the first commercial communications satellite. It was a mere 81 cm (32 in) in diameter and weighed only 77 kg (170 lb). Launched on 10 July 1962, it entered an orbit that carried it round the Earth once every 158 minutes. Telstar 1 relayed the first transatlantic television transmissions between Andover, Maine, and stations in Goonhilly, England, and Pleumeur-Bodou, France.
Although both Telstar 1 and Telstar 2 were an immediate commercial success, the problem lay in tracking them: they orbited the Earth roughly once every three hours and thus had to be continuously followed by ground station antennae. Syncom 2 was a great advance on these early Telstars because it did not have to be tracked.
Telstar 5 (Fig 2), 6, and 7, serve the United States, southern Canada, Mexico, and the Caribbean. Telstar 5 and 6 each carry 24 C-band and 28 Ku-band transponders (see frequency bands, while Telstar 7 carries 24 C-band and 24 Ku-band transponders but achieves the same radio-frequency transmitter power, of 3200 watts, by using more powerful components. In 2003, Loral announced an agreement to sell Telstar 5, 6 and 7 to Intelsat, which now operates the satellites now as Intelsat Americas 5, 6 and 7. Telstar 8, to be operated as Intelsat America 8, will be launched in 2004 from Sea Launch's Odyssey Launch Platform by a Zenit-3SL rocket. It is one of the most powerful communications satellites ever built, with a total of 92 Ku-band, C-band, and Ka-band transponders, a transmitter power of at least 16,000 W, and a mass of 5,500 kg. Telstar 8 wil replace Telstar 402R, which Loral declared lost in 2003, at 89° W and provide coverage across North and South America.
| | | | | | |
| --- | --- | --- | --- | --- | --- |
| spacecraft | launch date | launch vehicle | launch site | orbit | mass (kg) |
| Telstar 1 | Jul 10, 1962 | Delta B | Cape Canaveral | 945 × 5,643 km × 45° | 77 |
| Telstar 2 | May 7, 1963 | Delta B | Cape Canaveral | 972 × 10,802 km × 43° | 79 |
| Telstar 3A / Arabsat 1E | Jul 28, 1983 | Delta 3925 | Cape Canaveral | GSO at 76° W | 625 |
| Telstar 3C | Aug 30, 1984 | Shuttle STS-41 | Cape Canaveral | GSO at 125° W | 625 |
| Telstar 3D | Jun 17, 1985 | Shuttle STS-51 | Cape Canaveral | GSO at 76° W | 630 |
| Telstar 401 | Dec 16, 1993 | Atlas IIAS | Cape Canaveral | GSO at 97° W | 3,375 |
| Telstar 402 | Sep 9, 1994 | Ariane 421 | Kourou | lost in orbit | 3,485 |
| Telstar 402R | Sep 24, 1995 | Ariane 421 | Kourou | GSO at 89° W | 3,410 |
| Telstar 5 | May 24, 1997 | Proton 2KDM4 | Baikonur | GSO at 97° W | 3,600 |
| Telstar 6 | Feb 15, 1999 | Proton 2KDM3 | Baikonur | GSO at 93° W | 3,763 |
| Telstar 7 | Sep 25, 1999 | Ariane 44LP | Kourou | GSO at 127° W | 3,790 |
| Telstar 10 / APStar 2R | Oct 17, 1997 | CZ-3B | Xi Chang | GSO at 76.5° E | 3,700 |
| Telstar 11 / Orion 1 | Nov 29, 1994 | Atlas IIA | Cape Canaveral | GSO at 37.5° W | 2,361 |
| Telstar 12 / Orion 2 | Oct 19, 1999 | Ariane 44LP | Kourou | GSO at 15° W | 3,814 |
| Telstar 13 / Echostar 9 | Aug 8, 2003 | Zenit 3SL | Sea Launch | GSO at 121° W | 4,737 |
| Telstar 14 / Estrala do Sul 1 | Jan 11, 2004 | Zenit 3SL | Sea Launch | GSO at 63° W | 4,694 |
| Telstar 18 / APStar 5 | Jun 28, 2004 | Zenit 3SL | Sea Launch | GSO at 138° E | 4,640 |