Wilson, Charles Thomson Rees (1869–1959)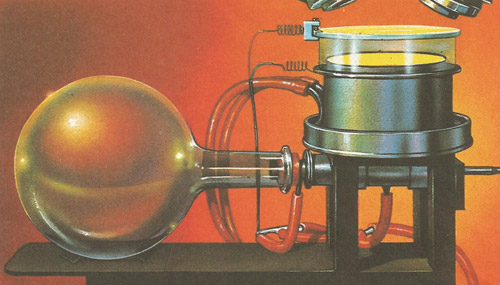 The cloud chamber is a device for letting charged particles, too small to be seen, reveal their paths as vapor trails in the chamber (right) which contains air and water vapor at very low pressures. The trails are photographed through the top of the chamber.
Charles Wilson was a Scottish physicist who, together with Arthur Compton, was awarded the 1927 Nobel Prize in Physics for his invention of the cloud chamber. He also devised a way of protecting World War 2 barrage balloons from lightning.
Wilson was born on a farm in the parish of Glencorse, Midlothian, Scotland. Upon the death his father died in 1873, his family moved to Manchester and he was educated at Owen's College, studying biology with the aim of becoming a physician. He then went to Sidney Sussex College, Cambridge where his interests turned to physics and chemistry.
Wilson thereafter became particularly interested in meteorology and, in 1893, began to study clouds and their properties. He worked for a while at the observatory on Ben Nevis, where he made observations of cloud formation. He then tried to reproduce this effect on a smaller scale in the laboratory in Cambridge, expanding humid air within a sealed container. This led to the development of the cloud chamber in which visible trails were produced by the passage of ions and radiation.