X-51

Artwork of X-51A Waverider in flight. Image credit: US Air Force.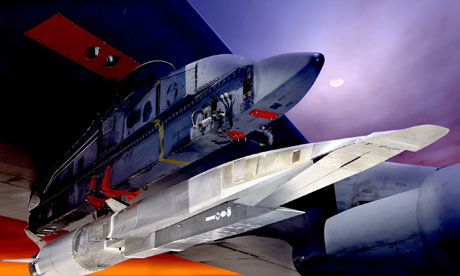 X-51A Waverider mounted under the wing of a B-52. Image: US Air Force.
The X-51 is a hypersonic flight program run jointly by the US Air Force, DARPA, NASA, Boeing, and Pratt & Whitney Rocketdyne. Its current demonstration vehicle is the X-51A Waverider which carried out a successful maiden flight on May 26, 2010, becoming the first aircraft to fly under power at speeds above Mach 5 for a sustained period. A second flight, on March 24, 2011, ended early because of an engine problem known as an "unstart". A third test flight took place on August 15, 2012, during which it was hoped the plane will reach Mach 6; however, this also ended in failure when the vehicle broke up 15 seconds after the rocket booster fell away.
The X-51A is air-launched from under the wing of a B52 Stratobomber. After being dropped from the B-52, it fires a solid-rocket booster to accelerate it to about Mach 4.5. The rocket booster is then jettisoned and the vehicle's scramjet kicks in to push the vehicle to hypersonic speeds of Mach 5–6. This scramjet, a Pratt & Whitney Rocketdyne SJY61, was originally intended to be used by NASA's X-43A, which was canceled.
The X-51A is not intended to be recovered after its mission, and falls in the ocean. Only one X-51A remains of those originally built, and it has not yet been decided if this will ever actually fly.
| | |
| --- | --- |
| Length | 25 ft (7.62 m) |
| Unfueled weight | 4,000 lb (1.814 kg) |
| Maximum speed | Mach 6 (3,600 mph; 5,800 km/h) |
| Range | 460 miles 6 (740 km) |
| Service ceiling | 70,000 ft (21,300 m) |