Prokofiev, Sergei (1891–1953)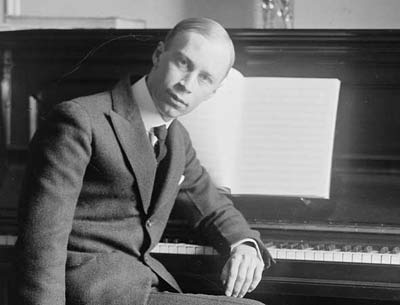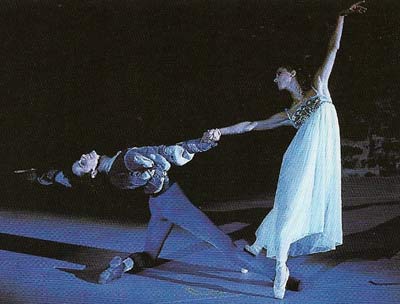 The pas de deux from Prokofiev's ballet Romeo and Juliet, written for the Bolshoi Ballet in Moscow. This performance took place at the Savonlinna Opera Festival in Finland.
Prokofiev, together with Stravinsky and Shostakovich, belongs to the trio of great Russian composers of the 20th century. Like Stravinsky, he left Russia after the Revolution, settling in America and Paris, but unlike him, Prokofiev then returned in the 1930s, with mixed fortunes. He was a noted composer of stage music, but also – like Shostakovich – made significant contributions to both the symphonic and concerto repertoires.
Prokofiev was the only child of a wealthy and cultured family. He began to compose at five, and studied privately with Reinhold Gliere (1875–1956). In September 1904 he entered the St Petersburg Conservatory, where he spent ten years. By the time of his public debut as a composer and pianist on New Year's Eve 1908, he was already .n accomplished composer with a reputation for writing astringent, avant-garde music with a tendency to shock.
Prokofiev's life changed dramatically after his father's death in 1910, when he had to start earning a living. His response was to write the first of his five piano concertos, which caused uproar among critics. It was followed by a second (1913), which apparently left its listeners "frozen with fright, hair standing on end". Nevertheless, Prokofiev graduated from the Conservatory in June 1914. with the prestigious Rubinstein Prize.
As a reward, his mother took him to London. There he met Diaghilev, who commissioned a ballet from him. Prokofiev's first attempt was a failure, and his second, Chout (The Buffoon), remained unperformed until 1921. Meanwhile Prokollev had returned to a Russia torn by internal political strife and suffering from the deprivations of war. He spent the war years working on his opera Igrok (The Gambler, 1917, based on Dostoyevsky), the luminous First Violin Concerto (1916–1917), and the ebullient, Haydnesque Classical Symphony, one of his most popular works. When the political situation deteriorated after Lenin seized power, Prokofiev emigrated to the USA.
America and France
At first, his sensational piano-playing excited the American public, and the Chicago Opera commissioned the opera The Love for Three Oranges (which, after initial production problems, eventually became the only one of his ten or so operatic projects to achieve international success in his lifetime). But Prokofiev's performing career had stalled, and in 1922 he left for Paris, where he spent the next 14 years. His works of those years include three ballets, the Third, Fourth and Fifth Piano Concertos (the Fourth, written for Paul Wittgenstein in 1931, for left hand only), the Second Violin Concerto and the First Cello Concerto, and the Second, Third and Fourth Symphonies, as well as piano pieces and songs.
Return to Russia
By 1933 Prokofiev had received many invitations from his homeland, which he revisited several times. His decision to return permanently in 1936 was influenced by the increasing number of Russian commissions he was receiving, including the film music for Lieutenant Kijj (1934), and Romeo and Juliet for the Bolshoi Ballet (although the company initially rejected the score), but he chose an inopportune time to return, just as the Soviet authorities were beginning to interfere in artistic matters.
His first "Russian" works therefore included innocuous pieces, such as the much-loved Peter and the Wolf for children; and over the next decade Prokofiev made a determined attempt to provide "Soviet realist" works which would satisfy Stalinist criteria. But these did not save him from oppression. During World War II his Spanish-born wife Lina was arrested on trumped-up charges of spying and sent to a labor camp under dubious circumstances; by then Prokofiev had formed a liaison with a Communist Party member, Mira Mendelson, with whom he lived until his death. In 1948 Prokofiev was among the composers denounced in the Stalinist press for "fbrmalist perversions".
However, the best works of Prokofiev's "Soviet" period – the film score for Eisenstein's Alexander Nevsky (1938), the operas Obrucheniye v Monastyre (The Duenna, 1940–1941, based on Sheridan), and Voyna i mir (War and Peace, 1941–1943, based on Tolstoy), the Second String Quartet (1941), and the Fifth Symphony (1944) – remained true to his own artistic ideals. His last works included another Eisenstein film score, Ivan the Terrible (1945–1947), the Sixth and Seventh Symphonies (1945–1947), the ballets Cinderella (1910–1911) and Kamenniy tsvetok (The Tale of the Stone Flower, 1948–1953), and the Symphony-Concerto for cello and orchestra (1950–1952), written for Mstislav Rostropovich (born 1927). Prokofiev died of a brain hemorrhage on the same day as Stalin.