Ravel, Maurice (1875–1937)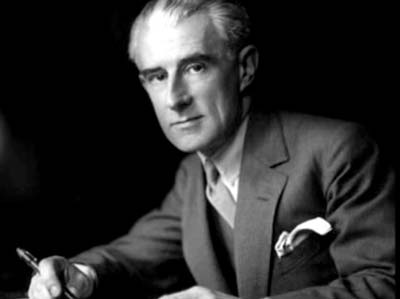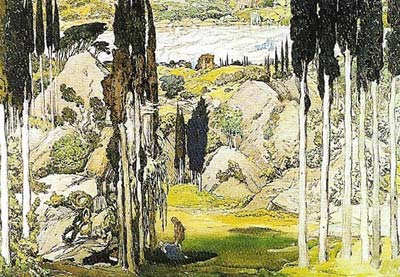 A design by Leon Bakst (1866–1924) for Act I of the Russian production of Ravel's Daphnis et Chloé in Paris, 1912.
Debussy and his younger contemporary Ravel are often classed together as "impressionist" composers, and in life they sometimes found themselves in unintentional rivalry. In fact, the music of each was quite individual.
Ravel was the son of an engineer of Swiss origin and his Basque wife. When he was a baby the family moved to Paris, where Ravel spent the rest of his life. Like Debussy, he showed early promise as a pianist, and when he was 14 he entered the Paris Conservatoire. During his student days he came into contact with Javanese gamelan music (at the 1889 Paris Exposition), Russian music, and Wagner, all of which indirectly influenced his own work.
Having graduated from the piano class in 1895, Ravel returned two years later to study composition with Fauré. An interest in Renaissance literature encouraged him to set poems by Clément Marot (c. 1497–1544), and to write the Menuet antique (1895) and the Pavane pour une infante défunte (Pavan for a Dead Infanta, 1899) for piano; the latter became one of his most popular works. However, his outstandingly original talent disconcerted the Conservatoire's staid establishment, and he failed to win the Prix de Rome five times. Indeed, when he was eliminated in the first round in 1905, having already composed the virtuoso piano piece Jeux d'eau (1901), the String Quartet (1902–1903), and the ravishing orchestral song-cycle Shéhérazade (1903), a huge public row forced the resignation of the Conservatoire's director.
Les Apaches
By now Ravel was a member of the artistic circle of poets, musicians, critics, and painters known as "Les Apaches". His tiny stature, his addiction to elegant clothes and his impeccable toilette ensured his social popularity. His sexual proclivities are still unclear, but he never married and remained deeply attached to his mother. With the "affaire Ravel" at the Conservatoire behind him, he concentrated on composition, including the Sonatine (1903–1905) and Miroirs (1904–1905) for piano, the Introduction and Allegro for harp and chamber ensemble, the song-cycle Histoires naturelles (1906), and the evocative orchestral Rapsodie espagnole (1907–1908). He also began work on his first opera, L'heure espagnole (1907–1909), influenced by his Basque origins, and in 1911 turned his piano suite Ma mère l'oye (Mother Goose), originally written for two children, into a ballet score. From the same period dates his most famous ballet, Daphnis et Chloé (1909–1912), which was commissioned by Diaghilev.
War years
At the outbreak of World War I, Ravel was working on his Piano Trio. Turned down for military service on the grounds of his size, he became an ambulance driver on the Western Front until his health broke down. The death of his mother in 1916 was a cruel blow. His creative response to tragedy was Le tombeau de Couperin (1917), an anachronistic keyboard suite commemorating fallen friends, and the post-war La valse, a savage vision of a ghostly waltz to destruction. In 1921 Ravel moved to a small villa at Montfort-l'Amaury near Paris, which he filled with cats, toys, and delicate objets d'art. His love of children was reflected in his next opera, L'enfant et les sortilèges (The Child and the Magic Spells, 1925), in which he userd a libretto by Colette (1873–1954) to recreate an enchanted childhood world peopled by talking toys and animals. He commemorated Debussy's early death with his Duo for violin and cello, composed the song-cycle Chansons rnadécasses (1925–1926) for the American patroness Elizabeth Sprague Coolidge, and began work on two violin works, Tzigane (1924) and the Sonata (1923–1927).
Last works
In 1928, the year he visited America, Ravel composed the ballet BoIéro, whose success came to haunt him. His two brilliant piano concertos (one for the left hand, in F, for the pianist Paul Wittgenstein, who had lost his right arm during World War I) appeared soon after this. His last work was the set of songs Don Quichotte à Dulcinée (1932–1923), written for a film based on Cervantes' novel.
For the last five years of his life Ravel suffered from Pick's disease, an illness accelerated by brain damage sustained in a car crash. He died in 1937.