Debussy, Claude (1862–1918)
A drawing by René Bull illustrating Debussy'sPrélude à "L'après-midi d'un faune" dating from 1913, the year after Nijinsky's scandalous choreographic version for the Ballets Russe.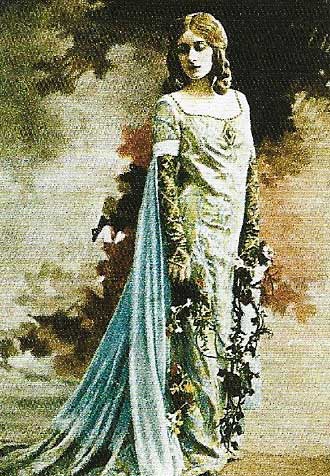 The Scottish soprano Mary Garden (1874–1967) as Mélisande, the heroine of Debussy's Pelléas and Mélisande. She created the role at the Paris Opera in 1902.
From the late Baroque period to around 1890, mainstream Western music was firmly rooted in Germany and Austria. Not until the late 19th and early 20th centuries did the line of succession stretching from Bach to Mahler begin to branch out, with major composers emerging from Russia, Bohemia, England, Scandiinavia, and the USA. It was a Frenchman, Claude Debussy, who broke the German monopoly, revitalizing French music with his uniquely subtle art, and opening up a new sound-world for the 20th century. His music explored "the mysterious relationship between Nature and Imagination".
Debussy's life centered on Paris, which was fast becoming the hub of European culture. He was born on 22 August 1862 in the suburb of St Germain-en-Laye, where his parents ran a china shop. The young Claude Achille and his siblings were often packed off to their Aunt Clementine in Cannes, where Debussy began to learn the piano with a former pupil of Chopin. At the age of ten he entered the Paris Conservatoire, where he unnerved his teachers with experimental harmonic improvisations at the keyboard.
Despite his unorthodox tendencies, he won the coveted Prix de Rome in 1884 with his cantata L' enfant prodigue, but his sojourn in Rome was not a happy one, and he returned to Paris – where he had been conducting a love affair with a married woman – in the spring of 1887. The same year he became intoxicated with Wagner's music and in 1888 visited Bayreuth. Although Debussy later described Wagner's music as "a beautiful sunset that was mistaken for a dawn", it held a life-long fascination for him. He even began work on a Wagnerian opera, but abandoned it when he realized that his own music needed to be "flexible and adaptable to fantasies and dreams".
Impressionism
Debussy had already found inspiration in the elusive works of the Symbolist poets, including Verlaine, whose verses he had begun to match with delicate, ethereal settings. At the same time he began to experiment with new piano sonorities, and with a scale based on whole tones, without a firm key center. Among his early piano works are a pair of Arabesques and the Petite suite for piano duet.
The Javanese gamelan music Debussy heard at the 1889 Paris Exposition left a lasting impression, when he realized that economy of means – a single, shrill clarinet or a gong – could be just as effective as a full-blown symphony orchestra. The influence of Art Nouveau, then all the rage in Paris, resulted in his cantata La damoiselle élue (The Blessed Damoze, 1888), based on a poem by the Pre-Raphaelite artist and writer Dante Gabriel Rossetti.
In the early 1890s Debussy found a tiny apartment in Montmartre, then the center of artistic "bohemian" life. Surrounded by the artists, writers, fellow musicians, laundresses, and prostitutes who constituted the district's lively residents, he set up house with his girlfriend. Gabrielle Dupont. and embarked on a period of penniless squalor but artistic creativity. During this period he developed his characteristic style, capturing in subtle, shifting harmonies and fragments of melody the essence of a breath of wind, the rustle of leaves, or a shaft of moonlight.
Sometimes his inspiration came from an antique dream-world peopled by masked Harlequins and Columbines playing mandolins and dancing sarabands. These visions sprang to life in the Suite bergamasque (1890) for piano, of which the third piece is the haunting "Clair de lune", the suite Pour le piano (1894–1901), and in the Verlaine settings called Fêtes galantes (1891 and 1904). From the same period dates the String Quartet (1893), and his most famous orchestral piece, the Prélude à "L'après-midi d'un faune" (Prelude to "The Afternoon of a Faun", 1894). Based on an erotic monologue by Mallarmé about a faun lying in the grass one hot summer's afternoon in ancient Greece, dreaming of making love to two beautiful but elusive nymphs, the piece – turned into a scandalous ballet in 1912 by the dancer Nijinsky – was a triumphant success. According to the conductor and composer Pierre Boulez, from the first languid notes of the faun's flute, "music began to heat with a new pulse".
In the mid 1890s Debussy worked on the opera Pelléas et Mélisande, based on a Symbolist drama by the Belgian writer Maurice Maeterlinck. His infinitely subtle music, economically scored, and using silence as "perhaps the only way of throwing the emotional weight of a phrase into relief", perfectly complemented. Maeterlinck's perplexing play, in which the characters seem to lack normal motivation. It took nine years for Pelléas to reach the stage, when it was greeted with incomprehension and hostility. It is now recognized as a masterpiece.
During this period, Debussy had lived off a small annual allowance from a publisher. Constant lack of money caused friction between him and Gaby, and the couple finally separated in 1898, just as Debussy finished another orchestral work, the three Nocturnes. These poetic evocations of a cloudy day over the river Seine, a Parisian carnival complete with brass band, and a delicate seascape with mermaids singing, are among his most "impressionistic" pieces, as are the contemporary set of Estampes (Prints) for piano, consisting of the pseudo-oriental Pagodes, Soirée dans Granada (Evening in Granada, a languid Spanish habanera), and the virtuosic Jardins sous la pluie (Gardens in the rain).
Marriage
In 1899 Debussy – whose dark, Mephistophelean looks made him immensely attractive to women – replaced Gaby with a pretty bottle-blonde model called Lilly Texier. Ill-educated and tubercular, Lilly proved an entirely unsuitable wife. In 1903 Debussy met Emma Bardac, Fauré's ex-mistress, now the wife of a banker. They fell passionately in love and eloped to Jersey (where he wrote the piano piece L'île joyeuse). Lilly Debussy tried to shoot herself and Debussy was ostracized by his friends, but he and Emma set up house together in the fashionable Avenue du Bois de Boulogne, where their adored daughter Claude-Emma (Chou-Chou) was born in 1905. For the rest of his life Debussy attempted to keep Emma in the style to which she had become accustomed, often with great difficulty, and their ten-year marriage was frequently under strain, especially when he was obliged to leave on long conducting tours.
In 1905 Debussy completed his symphonic seascape La mer, a vivid example of his ability to create, through a mosaic of melody and delicate touches of instrumentation, an impression of the interplay between light and water. Over the next few years he also completed two sets of Images for piano, the delightful Children's Corner (1906–1908) for his daughter, two books of piano Preludes, and a set of orchestral Images: Rondos de printemps (Dances of Spring), Iberia, and Gigues. In 1911 he tried his hand at ballet music in Khamma, written for the Canadian dancer Maud Allan, and in 1913, in the masterly score Jeux (Games), written for Diaghilev's Ballets Russes and choreographed by Nijinsky.
Last works
By 1914 Debussy knew that he was mortally ill with cancer of the colon. Deeply distressed by the carnage of World War I, he worked feverishly to finish two sets of piano studies, inspired by Chopin's, and three pieces for two pianos, En blanc et noir (1911), each dedicated to a friend killed in action. His last works were three out of a projected set of six sonatas – abstract music in a new, austere style – for cello and piano, violin and piano, and flute, viola, and harp. He did not live to write the other three, dying during a German bombardment on 25 March 1918. His sonatas were published with the simple inscription: "Claude Debussy: musicien français".