Satie, Erik (1866–1925)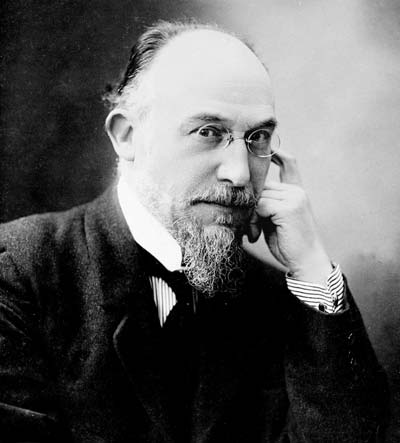 A contemporary of Debussy and Ravel, Erik Satie was a pioneer of the avant-garde. His satirical, anti-bourgeois attitudes and eccentric demeanour anticipated Dadaism and Surrealism, while his spare, whimsical musical style was the antithesis of late Romanticism. He had enormous influence on the group of composers known as "Les Six", as well as on later figures such as John Cage.
The son of a French father and a Scottish mother, he was born in Honfleur on the Normandy coast, and moved to Paris in 1878. He studied at the Paris Conservatoire, but achieved little success. His early works for piano include Sarabandes (1887), the hypnotic Gymnopédies (1888) and the exotic-sounding Gnossiennes (1890). For several years he earned a meager living playing the piano in Montmartre bars and cabarets, and also became involved with the occult Rosicrucian sect, "founding" the Metropolitan Church of the Art of Jesus the Conductor.
Around 1890 Satie met Debussy, beginning a 25-year friendship in which Debussy was very much the superior partner, with Satie as his court jester. During this period Satie had a tempestuous love affair with the painter Suzanne Valadon (the mother of Utrillo), and became known for eccentric gestures, such as buying 12 identical gray velvet suits. In 1898 he left Montmartre for the grim suburb of Arcueil-Cachan, where he lived in one small, bare room.
Satie's later compositions often have deliberately obscure titles, such as Trois véritables préludes flasques (pour un chien) (Three flabby preludes for a dog), Choses vues à droite et à gauche (sans lunettes) (Things seen from the right and left without spectacles), and Trois morceaux en forme de poire (Three pear-shaped pieces), though there are actually seven.
During World War I Satie collaborated with the writer Jean Cocteau (1889–1963), the choreographer Leonid Massine, and the painter Pablo Picasso on the 1917 ballet Parade for Diaghilev's Ballets Russes.The work set out to introduce the principles of Cubism to the stage, and Satie's jazz-influenced score – including parts for typewriter, whistle, and siren – caused a scandal. In complete contrast was the cantata Socrate (1919), which he wanted to be "white and pure like antiquity". Subsequent collaborations with Massine and Picasso, and with Francis Picabia and Rene Clair, produced the ballets Mercure and Relâche (No Show, 1924). By then Satie had become a recluse. A heavy drinker, he died of sclerosis of the liver in July 1925.