Sibelius, Jean (1865–1957)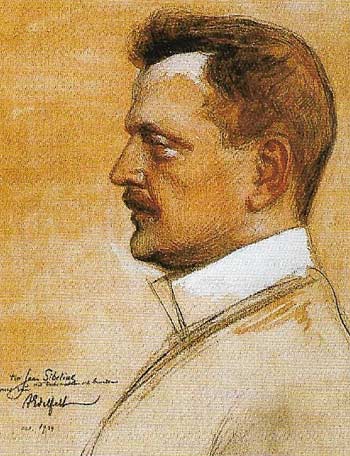 A colored drawing from 1904 of Jean Sibelius by Albert Edelfelt.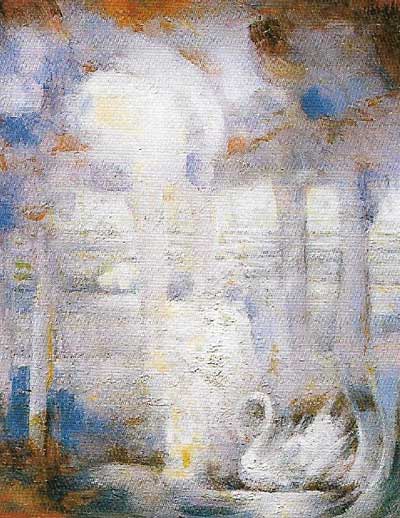 An impressionistic illustration of Sibelius's tone poem, The Swan of Tuonela (1893–1897) by I. J. Belmont.
The careers of Jean Sibelius and Edward Elgar have many parallels, although Sibelius, eight years Elgar's junior, outlived the English composer by more than 20 years. Each was responsible for a musical renaissance in his native land, and each developed a highly distinctive idiom, inspired to a certain extent by the musical characteristics of his native culture. Both composers lapsed into creative silence after middle age.
Sibelius was born into a Swedish-speaking family. His father, a doctor, died of cholera when Jean – who gallicized his given name, Johan – was still an infant, and the boy was brought up by his mother and grandmother. He was a promising violinist (he hoped to become a soloist), and was composing by the age of ten. From an early age he was much influenced by the Kalevala, the Finnish national epic, which – allied to an intense response to landscape and nature – was to provide the impetus for his own work.
After leaving school Sibelius originally intended to study law, but gave it up in favor of music. In the 1880s he studied first in Helsinki, and then in Berlin and Vienna, where he made many influential contacts, but also began the heavy drinking and financial irresponsibility which were to mar his later life.
Nationalism
Sibelius returned to Finland in 1891, where he worked on Kullervo, a symphonic poem for soprano, baritone, chorus, and orchestra based on the Kalevala. Its immediate success established him as Finland's leading composer. In June 1892 he married the daughter of a Finnish nationalist general, thereby cementing his own identification with the nationalist movement (Finland was at that time part of the Russian Empire).
Although. Sibelius never used actual folk tunes, his works of the 1890s are all distinctively Finnish. They include the four tone-poems based on the exploits of the legendary hero Lemminkäinen, of which the third is Tuonelan joutsen (The Swan of Tuonela); two more tone-poems – En saga and Skogsraet (The Wood-nymph) – and the incidental music to Karelia (from which Sibelius made an orchestral suite). All these show the characteristic features of Sibelius's musical style, especially his liking for short motifs which are spun out symphonically, his use of ostinato patterns, and his effective handling of orchestration, with woodwind highlighted against an atmospheric string background, giving the impression of wind-blown open spaces.
Symphonies
In 1897 Sibelius – who was constantly in debt – was awarded a state pension which allowed him to concentrate on composing. Two years later he completed the tone-poem Finlandia and his First Symphony, clearly influenced by Tchaikovsky. It was followed by six more symphonies, written between 1902 and 1924, each of which is highly individual. The Second (1902) and the Fifth (1915) are perhaps the most popular (like Beethoven's, the Fifth is a "heroic" work); while the Fourth (1911) is compact and austere in tone, the Sixth more pastoral, and the short Seventh (originally called Fantasia sinfonica) is in a single movement. An Eighth Symphony was written, but immediately destroyed.
During the early years of the 20th century, Sibelius traveled extensively, visiting England, Bohemia, and Italy. The Violin Concerto dates from 1903, a period in which Sibelius's drinking and debt put his marriage under strain. In 1904 he built himself a villa outside Helsinki, where he lived for the rest of his life. The tone-poems Pohjolan tytär (Fohjola's Daughter) and Olsen ratsastus ja auringonnousu (Night-ride and Sunrise) date from this period, as does the incidental music to Maurice Maeterlinck's Pelléas et Mélisande (a play which Debussy used as the basis for his opera) and Belsazzars gästabud (Belshazzar's Feast, a Biblical episode later set by William Walton).
Silence
In 1908 Sibelius underwent an operation for suspected throat cancer, and his later works have an intensified bleakness. He continued to travel throughout Europe arid to America to conduct his works until the outbreak of World War I, an event which virtually ended his creative life. After the war he wrote only four more major pieces, including incidental music for Shakespeare's The Tempest (1925), and his last symphonic poem, Tapiola (1926). For the remaining 31 years of his life, he composed nothing, disliked talking about his music and became increasingly reclusive.