90 Antiope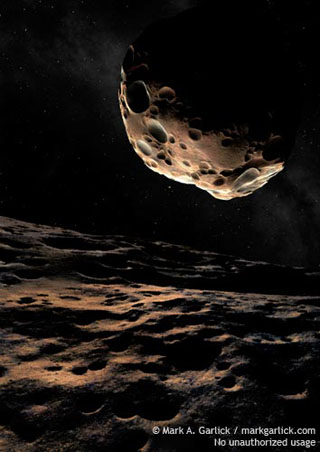 Artist's rendering of one of the components of the binary asteroid 90 Antiope as seen from the surface of the other. Credit and ©: Mark Garlick (reproduced with permission).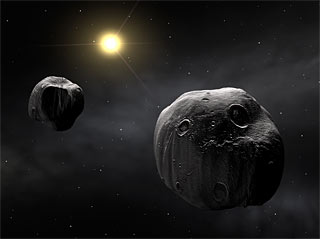 Artist's rendering of the binary asteroid 90 Antiope. Credit: European Southern Observatory.
90 Antiope is the first asteroid shown to be a binary system (see binary asteroid); its two components, each about 85 kilometers across, are separated by about 170 kilometers, and appear to be rubble piles consisting of about 30 percent empty space (see rubble-pile asteroid). They complete an orbit around one another every 16.5 hours. Antiope was discovered in 1866 by the German astronomer R. Luther and is a member of the Themis family, located in the outer part of the main asteroid belt.
| | |
| --- | --- |
| spectral class | C |
| albedo | 0.05 |
| semimajor axis | 3.155 AU |
| perihelion | 2.665 AU |
| aphelion | 3.645 AU |
| eccentricity | 0.155 |
| inclination | 2.2° |
| period | 5.60 years |