Ariel (UK satellites)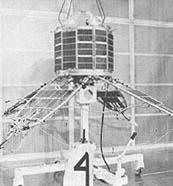 Ariel-4. Image credit: NASA.
Ariel was a series of six British satellites launched by NASA. The first four were devoted to studying the ionosphere, the remaining two to X-ray astronomy and cosmic-ray studies. Ariel 1 was the first international satellite. It was named in Feb 1962 for the spirit of the air who was released by Prospero in Shakespeare's play The Tempest. The name "Ariel" – a traditional one in British aeronautics – was chosen by the UK Ministry of Science and endorsed by NASA.
Ariel 1 (UK-1 before orbit) was built by NASA's Goddard Space Flight Center and instrumented with six British experiments to make integrated measurements in the ionosphere. Ariel 2, contained three UK-built experiments and was placed in orbit two years later. Ariel 3, designed and built in the United Kingdom, carried five experiments. The UK-built Ariel 4 carried four UK and one US experiment to investigate plasma, charged particles, and electromagnetic waves in the ionosphere.
Ariel 5 was one of the earliest X-ray astronomy satellites and involved a British-American collaboration. The Science Research Council managed the project for the UK and the Goddard Space Flight Center for the US. Several catalogs of X-rays sources stemmed from its observations which continued until the spring of 1980.
| | | | | | |
| --- | --- | --- | --- | --- | --- |
| spacecraft | launch date | launch vehicle | launch site | orbit | mass (kg) |
| Ariel 1 | Apr 26, 1962 | Delta | Cape Canaveral | 398 × 1,203 km × 53.8° | 60 |
| Ariel 2 | Mar 27, 1964 | Scout X-3 | Wallops Island | 287 × 1,349 km × 51.7° | 68 |
| Ariel 3 | May 5, 1967 | Scout A | Vandenberg | 499 × 604 km × 80.6° | 90 |
| Ariel 4 | Dec 11, 1971 | Scout B | Vandenberg | 476 × 592 km × 82.0° | 100 |
| Ariel 5 | Oct 15, 1974 | Scout B | San Marco | 504 × 549 km × 2.9° | 129 |
| Ariel 6 | Jun 2, 1979 | Scout D | Wallops Island | 372 × 383 km × 55.0° | 154 |