Collier's "space program"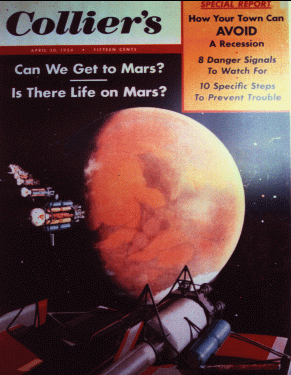 Collier's "space program" was a series of six lavishly-illustrated articles, published in Collier's magazine over a two-year period beginning in 22 March 1952, which sparked widespread public interest in rocketry and space travel.1 It stemmed from an invitation by Collier's managing editor Gordon Manning to pioneering space artist Chesley Bonestell to attend a San Antonio conference on "Physics and Medicine of the Upper Atmosphere" at which there would be many leading experts on astronautics and rocketry. The idea was to give the artist – already well-known for his cinematic spacecraft designs and oil paintings of planetary vistas – the biological perspective needed to show readers how human beings might safely travel in space.
At the conference, held at the Air Force School of Aviation Medicine, Bonestell was particularly impressed by the enthusiasm and expertise of Wernher von Braun and suggested to Collier's editors that he was "the man to send our rocket to the Moon." A week later, the two men were at the magazine's New York offices along with some other great names of mid-century space science and illustration: Willy Ley, who had already collaborated with both von Braun and Bonestell, astronomer Fred Whipple, international law expert Oscar Schachter, artists Fred Freeman and Rolf Klep, and physicist Joseph Kaplan. Together these spaceflight visionaries set about depicting and explaining for the layperson every element of von Braun's integrated space program, from the first piloted rockets to a mission to Mars.
Reference
1. Von Braun, W. "Crossing the Last Frontier," Collier's, March 22, 1952.