Debus, Kurt H. (1908–1983)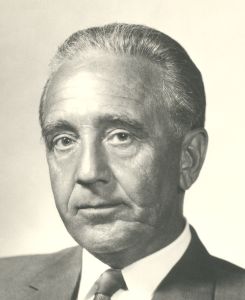 Kurt Debus was an important member of Wernher von Braun's V-2 development team who subsequently supervised rocket launchings in the United States.
Debus earned a BS in mechanical engineering (1933), and an M.S. (1935) and Ph.D. (1939) in electrical engineering, all from the Technical University of Darmstadt, before being appointed an assistant professor there. During World War II he became an experimental engineer at the V-2 test stand at Peenemunde, rising to become superintendent of the test stand and test firing stand for the rocket. In 1945 he came to the United States with a group of engineers and scientists headed by von Braun. From 1945 to 1950 the group worked at Fort Bliss, Texas, and then moved to the Redstone Arsenal in Huntsville, Alabama. From 1952 to 1960 Debus was chief of the missile firing laboratory of the Army Ballistic Missile Agency (ABMA). In this position, he was located at Cape Canaveral where he supervised the launching of the first ballistic missile fired from there – an Army Redstone. When ABMA became part of NASA, Debus continued to supervise missile and space vehicle launchings, first as director of the Launch Operations Center and then of the Kennedy Space Center as it was renamed in December 1963. He retired from that position in 1974.