eyespot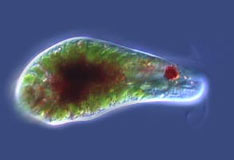 Euglena rubra with red eyespot.
The eyespot is a light-sensitive organelle present in some unicellular organisms, such as euglenoids, green algae, zoospores, and some gametes. Eyespots can also be found on more complex animals that have well-developed eyes. A dragonfly, for example, has an eyespot on each side of its head in addition to its compound eyes.

An eyespot enables a creature to respond to changes in light and dark but cannot gather enough information to form an image.