Grissom, Virgil Ivan ("Gus") (1926–1967)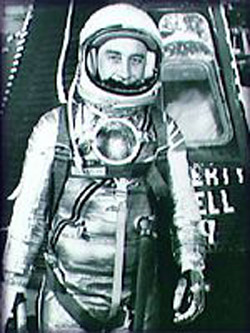 Virgil Grissom was one of the original Mercury Seven astronauts, the first person to fly in space twice (unless Joseph Walker's suborbital X-15 flights are counted), and the victim of a fire during a prelaunch test before the first manned Apollo flight.
Grissom received a BS in mechanical engineering from Purdue University before joining the Air Force and flying 100 combat missions in Korea. Upon returning to the United States, he became a jet instructor at Bryan, Texas, studied aeronautical engineering at the Air Force Institute of Technology, and then enrolled at the Air Force Test Pilot School at Edwards Air Force Base. In 1957 he went to Wright-Patterson Air Force Base, Ohio, as a test pilot in the fighter branch. Having been selected as an astronaut in 1959 he flew aboard Liberty Bell 7 on the second American manned spaceflight, commanded Gemini 3, the first two-man mission, was backup command pilot for Gemini 4, and was scheduled to command the first Apollo flight when he and his crewmates, Edward White II and Roger Chaffee, were killed in a launch pad fire on January 27, 1967.