Harmony Node 2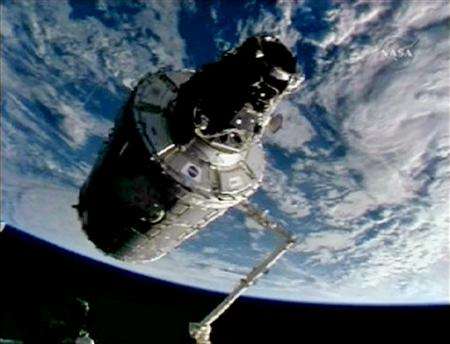 In the grasp of the International Space Station's Canadarm2, the Harmony node with the Pressurized Mating Adapter (PMA-2) attached is moved from its temporary location on the left side of the Unity node to its new home on the front of the Destiny laboratory. Credit: NASA.
The installation of NASA's Harmony Node increased the living and working space inside the International Space Station to approximately 500 cubic meters (18,000 cubic feet). It also allowed the addition of international laboratories from Europe and Japan to the station.
Harmony provides a passageway between three station science experiment facilities: the U.S. Destiny Laboratory, the Kibo Japanese Experiment Module, and the European Columbus Laboratory.
It also provides connecting ports for Multi-Purpose Logistics Modules, the Japanese H II Transfer Vehicle and the Pressurized Mating Adapter 2 to which space shuttles dock. The Space Station Robotic Arm, Canadarm2, can operate from a powered grapple fixture on the exterior of Node 2.
Under contract of the Italian Space Agency, Alenia Spazio in Turin, Italy, led a consortium of European sub-contractors to build the node. It was built for NASA under a barter agreement with the European Space Agency in exchange for the launch of the European Columbus Laboratory by the space shuttle to the International Space Station.
Physical description
The aluminum node is 7.2 meters (23.6 feet) long and 4.4 meters (14.5 feet) in diameter. Its pressurized volume is 75.5 cubic meters (2666 cubic feet), and its launch weight is approximately 14,288 kilograms (31,500 pounds).
Node 2 arrived at Kennedy Space Center, Fla. on June 1, 2003 to begin final preparations for its launch on shuttle mission STS-120, station assembly flight 10A. The name for Node 2, Harmony, was announced on March 15, 2007.