Jemison, Mae C. (1956–)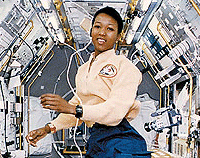 Mae Jemison was the first African American woman to fly in space. She was working as a general practitioner in Los Angeles, California, when NASA selected her and 14 others for astronaut training in 1987. Jemison completed her training as a mission specialist in 1988 and, in September 1992, flew as a mission specialist aboard the Space Shuttle Endeavour on mission STS-47, which carried Spacelab.
Jemison was born in Decatur, Alabama and earned her Doctor of Medicine degree from Cornell University in 1981. In 1993, she resigned from NASA and founded the Jemison Group, Inc. Among her current projects are several that focus on improving healthcare in Africa. She is also a professor of environmental studies at Dartmouth College.