High Renaissance in north Italy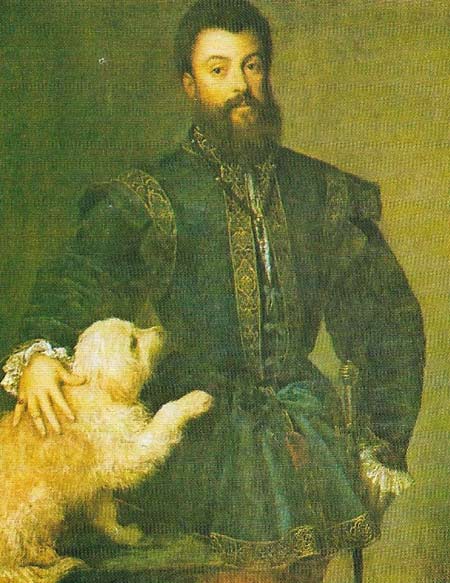 Fig 1. Federico Gonzaga, painted by Titian c. 1528, was the son of Isabella d'Este and spent his youth at the court of Julius II. He was an important patron of Titian's and introduced him to the emperor Charles V, whom Titian later painted. This portrait, in the relatively new three-quarter length format, set a fashion including dogs: this one is probably a symbol of fidelity.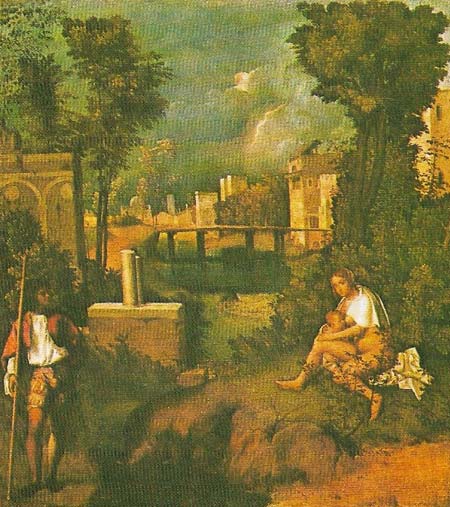 Fig 2. Giogione's "Tempesta" (c. 1507) is one of the few attributions to Giorgione sustained by evidence. The subject has given rise to much speculation: perhaps Giorgione, inspired by the legend of the Greek painter Apelles painting the unpaintable – a thunderstorm – took this challenge as his main theme. The painting ranks among the earliest Western landscapes.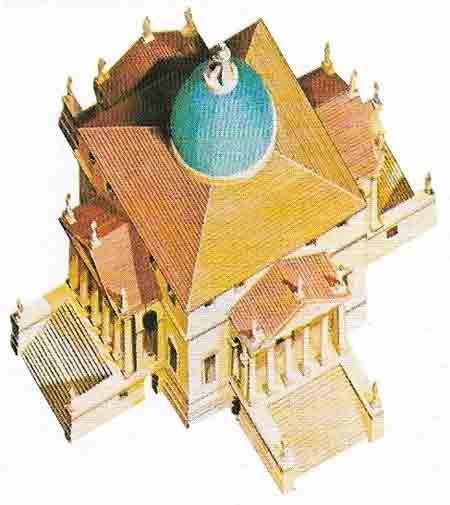 Fig 3. Palladio's Villa Rotunda was begun about 1550 in Vicenza. It is exceptional among villas for its perfect symmetry, designed to take advantage of the view from the hilltop site. The dome, new feature in domestic buildings, surmounts a circular hall. The classical portico had appeared before at Poggio a Caiano, Florence, the Medici villa designed by Guiliano da Sangallo and completed n 1520 for Pope Leo X. The six-columned porticoes on all four sides are an elaboration of Palladio's basic design.
Fig 4. Correggio's "Adoration of the Shepherds" (c. 1528–1530) is the outstanding example of the artist's illusionistic painting of light. The informal, eccentric design of this scene is calculated to make the spectator feel he completes the group.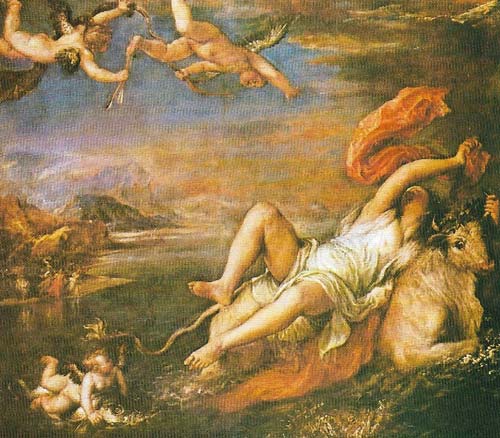 Fig 5. Titian's "The Rape of Europa" (1559–1562) is one of the set of mythologies painted for Philip II, King of Spain and Emperor, Titian's principal patron in the later part of his career. The artist seems to have been free to choose his subjects.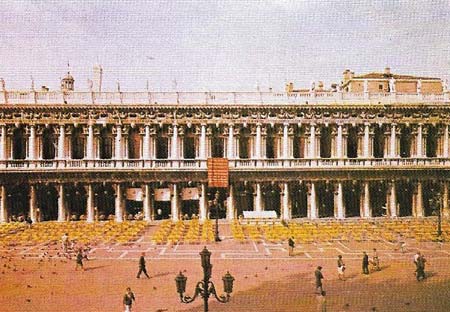 Fig 6. Jaco Sansovino's Library of S. Marco, Venice, was begun in 1536. The site required a building filling the whole length of the Piazzetta, incorporating an arcade (as a public amenity, and to accommodate shops), reflecting that of the Doge's Palace which it faces.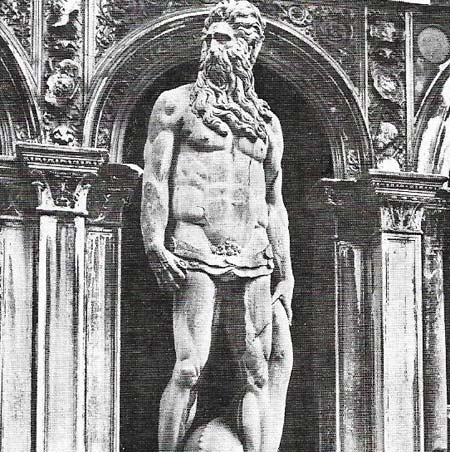 Fig 7. Jacobo Sansovino's "Neptune" typified Venetian sea power.
Many of the opportunities and interests of Roman and Florentine artists around 1500 were shared by their contemporaries in northern Italy; but there too it makes no sense to think of the High Renaissance in terms of generations. Giorgione (c. 1475–1510), with whom a new phase of Venetian painting seems to begin, was outlived by the much older Giovanni Bellini.
Transfusions of style
The legacy of Leonardo's most active periods in Lombardy (1483–1499, 1506–1508) was an assurance that north Italian artists would be as dedicated as any Florentine to forceful presentation and animation of all subject types, and there were continued migrations, in both directions, that were direct and even intended causes of style transfusions. The feeling – correct, in the medium term – that a Roman golden age had passed by the early 1520s dispersed Raphael's pupils, among them Giulio Romano (1499–1546), who fulfilled the ambitions of Federico Gonzaga (Fig 1) to, make of Mantua a new Rome. And then the catastrophe of the sack of Rome (1527) benefited several north Italian cities, notably Venice which acquired Jacopo Sansovino (1486–1570) (Fig 7).
The Gonzaga family in Mantua and the Este family in Ferrara escaped the momentary eclipse that most Italian courts suffered around 1500 and continued their tradition of enlightened, if strong-willed, patronage. In such centres there was much local talent, but it is characteristic of a new situation that the major artists were employed at a distance – Titian (c. 1487–1576) in Venice or Antonio Correggio (c. 1490–1534) in Parma. This was briefly an artistic centre of the first importance not because of peculiarly favorable, temporary patronal conditions but rather because of the residence there of Correggio and Parmigianino (1503–1540). Andrea Palladio (1508–1580) in Vicenza exemplifies best of all the phenomenon of the great "provincial" artist. None of these, however, was provincial in the sense of artistic isolation, partly because distances are short across the roughly triangular area between the Apennines, the Alps and the Adriatic. In the sixteenth century this area was characterized artistically by a large number of minor centers of activity – such as Bergamo or Bologna – whose fortunes fluctuated, and by the continuous dominance of Venice.
Venice offered civic and corporate patronage on an enormous scale in this period, and in all the visual arts; in architecture the new library and mint commissioned from Sansovino (Fig 6) are outstanding examples. These new buildings, together with the old Doge's Palace, were decorated lavishly by painters and sculptors.
Sumptuous decoration
In general the style of Venetian decoration is individual in its sumptuousness and harmoniously interwoven complexity, festive as Venetian music of the same period (4). Personalities have rarely been more important in defining the character of a city's art. Giorgione seems to have worked, immune to market pressures, within a restricted range of his own choice; and by focusing on particular problems, such as transient states of nature in the "Tempesta" (Fig 2) or the description of sentiment in portraits, enlarged rather as Leonardo did the whole notion of what a work of art might be. Then Titian – very different, especially through the universality of his art – with a succession of masterpieces over a very long career kept Venetian painting concentrated on problems such as those of atmosphere and colour, dramatic expression and characterization (Fig 5), which tended to be neglected in central Italy. Titian, largely through patronage, became the most esteemed painter in Europe.
Correggio, whom Titian admired, was in some respects a yet more original artist and of all sixteenth-century painters he came nearest to a baroque style. His were the most advanced experiments with movement and emotion and – again following Leonardo's lead – he achieved through naturalism and immediacy a newly intimate relationship between works of art and their spectators.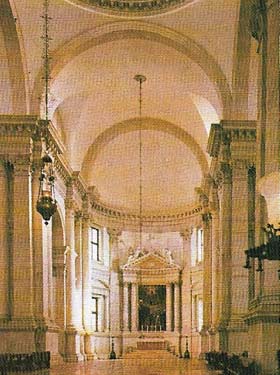 Palladio's S. Giorgio Maggiore, Venice, was begun on 1566. This was Palladio's first church. Like many architects working in Venice he was inspired by St Mark's to use columns in large numbers, but the interior is exceptionally light in colour, well-lit, and unadorned.
Palaces and villas
The other great "provincial", Palladio, has European stature for different reasons. Building activity generally gathered pace in north Italy from about 1525, especially in civic and domestic fields. Giulio Romano, Sansovino and Sanmicheli (c. 1484–1559), another transmitter of Roman experience, especially to Verona, built palaces and villas, and Palladio was much indebted for his designs to their example.
The growth of villa-building in the period was extraordinary but natural; the patriciate, especially from Venice, tended to put their capital increasingly into land and wanted to live on their estates. Palladio's genius lay in a rare combination of theoretical equipment and flexible, common sense. Very practical by temperament and also imaginative, he could provide for a new clientele with widely varied aspirations and needs, a range of building types that became (partly through publication) almost definitive. They ranged from a thinly disguised farmhouse, the wings of which were barns, to an impressively spreading rural palace (Fig 3); and they fulfilled a social need no less perfectly by their evident use of classical building styles as a mark of social distinction. The architectural needs of gentlemen in Europe (and America) were met by two centuries of Palladianism.
Paolo Veronese painted the fresco decoration (c. 1562) in the Villa Barbaro. Maser (near Trevino), designed by Palladio. The Villa is Palladio's most perfect blend of palace and farmhouse. Veronese was his ideal decorator. His illusionism takes amusing but slight liberties with the real architecture. Veronese's brilliant color and realistic observations of landscape make the frescoes quite remarkable. Some have religious subjects – such as the "Marriage of Saint Catherine" seen here. Some are landscaped and others contain portraits of the owner's family, friends and servants.