Renaissance in Germany and the Netherlands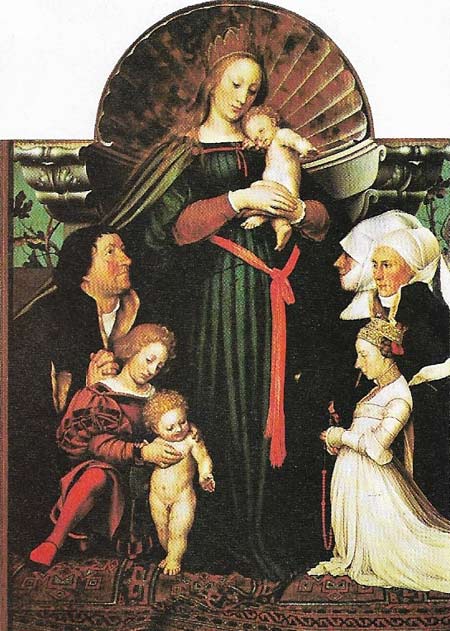 Fig 1. Hans Holbein the Younger's "the Meyer Madonna" (1526) was painted for the burgomaster Mayer's castle near Basel. It was completed immediately before Holbein's first trip to England. The painting was later modified (about 1530) when Holbein added Meyer's first wife. Holbein, one of the most accomplished portrait painters of his time, was a close friend of Erasmus and painted three portraits of him. While in Basel, Holbein also worked on designs for wood engravings and illustrated the Luther Bible.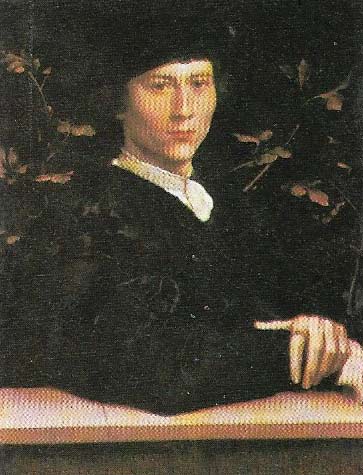 Fig 2. 'Derick Born' by Holbein was painted in 1533 on the artist's second London visit. Derich Born was a Cologne merchant resident on London. He was one of many Germans Holbein painted for the Merchants of Steelyard before his royal service.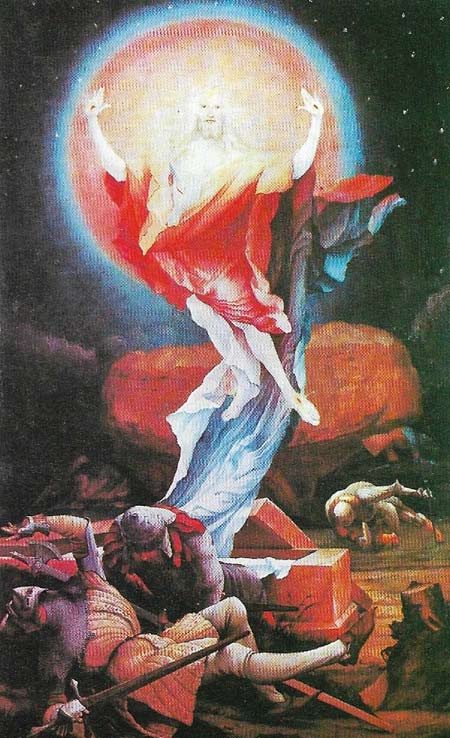 Fig 3. Mathias Grünewald's "Resurrection" (c. 1512–1516) is a wing of an enormous altar-piece from the Antonite monastery of Isenheim which shows, when closed, the Crucifixion. On the first opening the Annunciation, Nativity and Resurrection are revealed; on the second opening the hermits Paul and Anthony and the Temptation of Anthony. The wings flank three carved wooden figures of saints. Grünewald rejected Renaissance ideas. The remarkable emotional intensity in his work is expressed in Gothic imagery.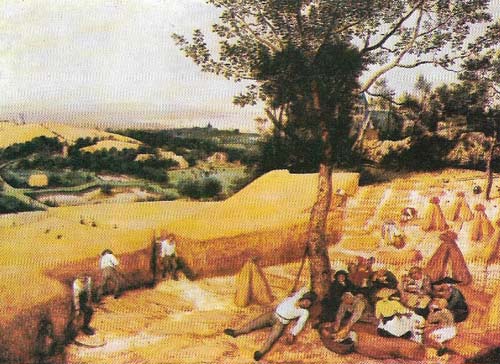 Fig 4. Pieter Bruegel the Elder's "The Corn-harvest (August)" (1565) is one of an incomplete set of Months, of which three more are in Vienna and one in Prague. They were apparently painted as part of the decoration of a house in Antwerp. Rubén's was later to paint this type of landscape.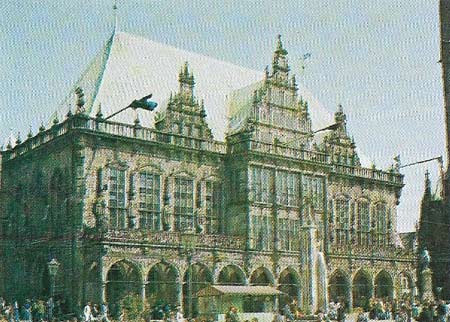 Fig 5. Bremen Rathaus was built in the 15th century and is mainly Gothic in style. Its façade was later rebuilt, between 1609 and 1614. By a Flemish architect and it includes many characteristic features of Renaissance civic architecture. The high-pitched roof and the stepped gables show a strong Flemish influence. While the round-headed arcade and the decorative panels are typically Italian. Civic building during the 17th century flourished, illustrating the wealth and pride of the expanding commercial centers in Northern Europe.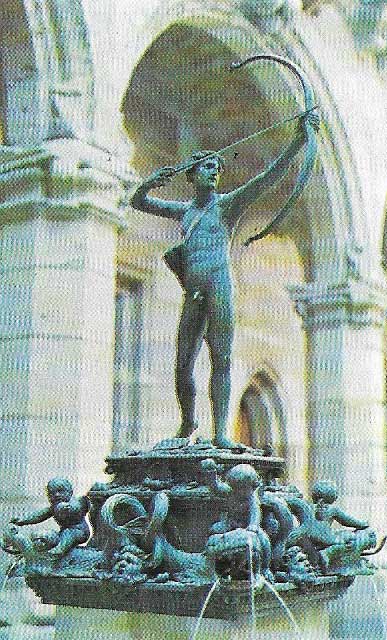 Fig 6. In the Apollo Fountain (1532) by Pieter Flotner the figure is about half life-sized and this early date is unique in northern sculpture for its classicism. This is partly based on Dürer's research into the ideal proportions of the human body (as in his "Adam and Eve" engraving, 1504), and partly (presumably) upon Flotner's own experience in Italy, where he may have seen the Apollo Belvedere in Rome. Flotner's work precedes all known Italian examples of the pyramidal type of fountain, with sea monsters and putti positioned around the base.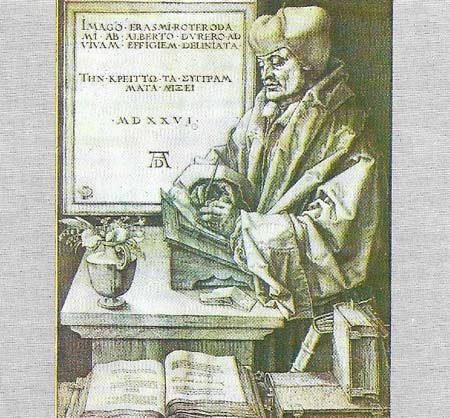 Fig 7. Albrecht Dürer's engraving "Portrait of Erasmus" was done on 1526. Desiderius Erasmus (1466–1536) was the most important figure in north European Renaissance humanism.
The tides of stylistic influence flowed northward in the sixteenth century as the prestige of Italian culture compensated for Italy's loss of political power. Albrecht Dürer of Nuremberg (1471–1528) was one of the first northern artists to digest the Italian Renaissance achievement and the Antique itself, which he saw at first hand, mainly in Venice. The greater part of his work was in woodcuts and engravings (Fig 7), to which he brought immense refinement of technique and capacities for narrative invention that made him the most imitated artist in Europe. The religious series issued for the popular market were more Germanic, more realistic in style, while the prints of humanist subjects, and the later panel paintings (from c. 1506), were more clearly of the Renaissance.
"SS. Paul and Mark" by Albrecht Dürer (1526) was one of a pair of paintings representing the Four Temperaments, which the artist presented to the city of Nuremberg. The other painting showed SS. Peter and John. Dürer combined the oil painting tradition of the north, emphasizing realism, with Italian monumental figure style. He was influenced by Bellini, whom he had seen on Venice, and by more recent studies of Raphael (probably via engravings), with whom Dürer corresponded. They also exchanged works.
Grünewald and Holbein
A painter and draftsman of equal imaginative power, but narrower range, was Mathias Grünewald (c. 1480–1528), court artist to the archbishops of Mainz and Brandenburg, who is best known for his prodigious altarpiece for the hospital of Isenheim, now Colmar (c. 1512–1516) (Fig 3). By expressive distortion, brilliant colour and technique, and extraordinary invention Grünewald painted with emotive power.
A cooler, and much more cosmopolitan character was Hans Holbein the Younger (1497–1543), who was born in Augsburg, matured in Basel (Fig 1) and later worked in London. His thoroughly Germanic beginnings were transformed by knowledge, probably first-hand, of north Italian High Renaissance art, and also of French and Flemish art. His later work, especially in England, is largely portraiture, where he combines an Italian sense of form and composition with dispassionate observation of detail and texture. In England, too, he worked as court artist to Henry VIII and established a tradition of miniature portrait painting; his principal native follower was Nicholas Hilliard (c. 1547–1619). German painting at the beginning of the century had another focus along the Danube between Bavaria and Austria. The major master of the Danube school was Albrecht Altdorfer (c. 1480–1538) who began, at about the same time as Giorgione (1475–1510) in Venice, to make paintings of which the main subject is landscape.
Painting in Flanders was centered on Antwerp, which supplanted Bruges as the commercial capital from about 1490. The founder of the Antwerp school was Quentin Massys (c. 1465–1530) who, like his German contemporaries, assimilated native traditions with Italian ideas. His collaborator Joachim Patenier (died c. 1525) was a landscape artist whose panoramic view of the world initiated a long Netherlandish tradition.
Rejection of local traditions
Massys had a group of followers whose complicated, neo-Gothic figurative painting has the dubious label "Antwerp Mannerist". But in Flanders, and still more in Holland, a contrary current impelled by a rejection of local traditions (except of technique) in favour of Italian is labelled more sensibly Romanist; chief among these were Scorel (1495–1562, Utrecht and Haarlem) and Heemskerck (1498–1574), and out of this school came a flourishing group of genre painters.
Netherlandish painting in the sixteenth century already has that character so familiar in the seventeenth of a bewildering quantity of minor masters but few of real stature. Two, however, stand out: Hieronymus Bosch (c. 1450–1516) and Pieter Bruegel the Elder (c. 1520–1569). Bosch, who worked in apparent isolation in Brabant, was active well before 1500, but about that date began to enjoy European patronage (such as that of Philip, Archduke of Austria). His peculiar fantasies, based on popular proverbs and vernacular visual imagery, are moralistic comments on the human condition; and to him is to be traced a fluid, transparent panel-painting technique continuous down to Rubens. Bruegel was one of the links in this tradition, but he looked still harder at nature and its seasons (Fig 4), at social classes, and enriched the content of secular painting.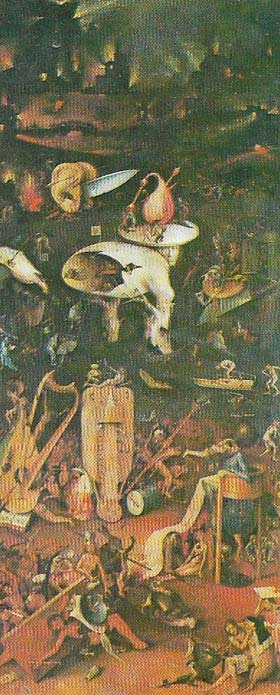 Hieronymus Bosch's 'Hell' (c. 1500) is the right wing of the "Garden of Delights" triptych. The left panel shows the Creation. With the wings closed one sees, in near monochrome, the Flood. Bosch's macabre fantasies seem to be meditations on the follies of mankind and their results.
Sculpture and architecture
A Renaissance style in sculpture began in south Germany around 1520, especially at Innsbruck and Augsburg; the exceptional Apollo Fountain at Nuremberg (Fig 6) by Pieter Flotner (c. 1493–1546) is clearly part of the legacy of Dürer's Renaissance and begins a series of remarkable south German fountains ending with those of Hubert Gerhard (c. 1550–1620). Antwerp was the other main center of northern sculpture and the training ground of Gianbologna (1529–1608), who spent most of his career in Florence. Buildings in a true Renaissance style are isolated freaks: they include the Fugger Chapel at Augsburg (1509–1518), the Chapel of Sigismund at Cracow (1517–1533) and the Castle of Breda (begun 1536), the last two by Italians. Clumsy imitations or superficial applications of Italianate detail are more common. A distinctively northern decorative style, spreading from England to Poland, is based upon the Mannerist engravings of the Antwerp school (particularly Cornelis Floris (1514–1575), with strapwork, scrolls and grotesque masks. But the most interesting architectural developments were in large, functional and stylistically unselfconscious buildings with many windows among the civic architecture of German towns such as the Rathaus at Bremen (Fig 5) and houses such as Longleat and Hardwick in England.