Grieg, Edvard (1843–1907)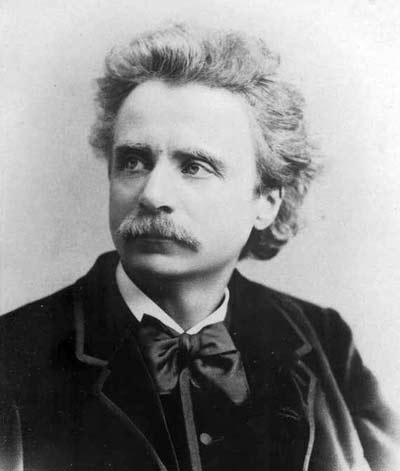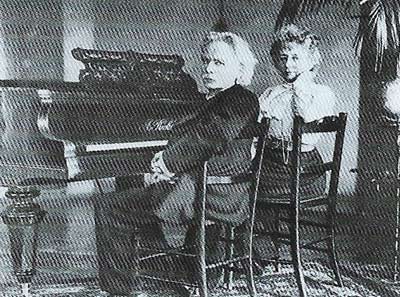 Grieg and his wife Nina – the chief interpreterof his songs – photographed in 1906, not long before his death.
A Norwegian folk dance. The distinctive idioms of these dances, and the sounds made by Norwegian folk instruments, permeated all of Grieg's music.
Grieg was the Scandinavian equivalent of Dvořák: a composer working outside the mainstream European symphonic tradition, though trained within it, who brought to his music a warmth and natural melodic facility that owed much to the folk music of his native land.
Grieg's father, Alexander, was a prosperous merchant of Scottish descent (the family name was originally Greig), who held the post of British Consul to the Norwegian port of Bergen. His mother, Gesine Hagerup, was an excellent pianist who undertook the musical education of her fourth child, Edvard, instilling in him a love for the music of Mona, Weber, and Chopin.
In 1858 the Grieg family was visited by the charismatic violinist Ole Bull, one of the pioneers of the fledgling Norwegian nationalist movement. Bull persuaded Grieg's parents to send him to the Leipzig Conservatory, where he studied piano with the composer and pianist !gnu Moselleles (1794–1870) and composition with Carl Reinecke (1824–1910). He also heard Clara Schumann play her husband's Piano Concerto, which had an enormous influence on his own future concerto.
Norwegian music
Grieg began his career in Bergen, then went to Copenhagen. There he met his cousin and future wife, the singer Nina Hagerup, for whom he wrote many of his songs. His growing sympathy with the Norwegian nationalist movement dates from this period, when he met the young nationalist composer Rikard Nordraak. The two of them planned to found a society for the promotion of Norwegian music, but Nordraak died of tuberculosis. During the winter of 1865–1866 Grieg also visited Rome, where he met the playwright Henrik Ibsen. He married Nina in June 1867: their long partnership survived the death in infancy of their only child, Alexandra, and Grieg's later infidelities.
Grieg had already begun to write piano pieces with a national tinge (including the first of many sets of Lyric Pieces), but in 1868 his enthusiasm was aroused by his discovery of a volume of Norwegian folk songs. The influence of these mountain melodies spilled over into the Piano Concerto, which Liszt played through at sight when the Griegs visited him in Italy in 1869. On returning to Norway, and with Liszt's encouragement, Grieg determined to make a name for himself. He gave a concert of his own works (songs, piano pieces, and sonatas for piano and violist), and established an Academy of Music in the Norwegian capital, Christiania (now Oslo).
Peer Gynt
Grieg also began to collaborate with the playwright and poet Bjørnstjerne Bjørnson, director of the Christiania Theatre, on incidental music for his play Sigurd Jorsalfar (1872) and a potential opera. But it was Ibsen's request for incidental music to his play Peer Gynt in 1874 which fired Grieg's creative imagination. The resulting music, which includes "Morning", "In the Hall of the Mountain King," and "Solveig's Song", is well known from two orchestral suites, and rivals the Piano Concerto in popularity.
Troldhaugen
From the mid 1870s Grieg combined long European concert tours as a conductor and pianist with increasing periods of time spent in reflection and composition amid the beauty of the Norwegian mountains. He was particularly fond of the Hardanger district, where he composed in a small wooden but by a lake. On frequent walking expeditions into the mountains he heard and collected folk songs and dances, whose idioms infuse his own piano pieces and songs, including the cycle Haugtussa, (The Mountain Maid).
In 1884, the year he completed the anachronistic Holberg Suite for strings, based on 17th-century dances, he had a house built at Troldhaugen, above the Hardanger fjord near Bergen, where he entertained friends such as Percy Grainger. His much-loved home is celebrated in "Wedding Day at Troldhaugen", included in the eighth book of Lyric Pieces, 1896.
By 1900 Grieg was suffering increasingly from lung disease. He was still much in demand internationally, and retained his life-long interest in his national folk music (his last works include a piano arrangement of Norwegian peasant fiddle tunes, called Slåtter). He died on the point of leaving for England on another concert tour, and his ashes were buried at Troldhaugen, in the side of the cliff overlooking the fjord.
Major works
Piano Concert in A minor (1868); Peer Gynt Suites (1874–1875); Holberg Suite (1884); 66 Lyric Pieces for piano (1867–1901); 140 songs.