Dvořák, Antonín (1841–1904)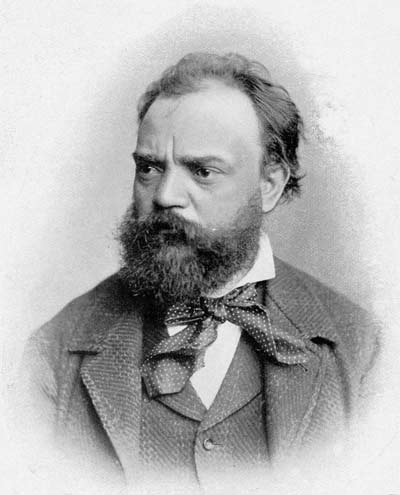 The National Theatre in Prague, opened on 18 November 1883. Dvořák's opera. The Jacobin was premièred there six years later.
Dvořák stands at the heart of the Czech nationalist musical movement. Like his contemporary Tchaikovsky, he succeeded in fusing folk idioms (the inflections of folk melodies and the characteristic rhythms of Czech dances such as the "furiant") with the symphonic techniques of his predecessors Beethoven and Brahms. His symphonies (particularly the three later ones), tone poems, piano and chamber music are all part of the mainstream repertoire, and his operas (especially Rusalka, 1900) are becoming more widely known through frequent revivals.
Dvořák's father was the village butcher, and wanted his son to follow the same trade, but Antonín began to learn the violin at an early age and was eventually allowed to study music. He attended the Prague Organ School, and began his career as principal viola in the orchestra of the Provisional Theatre. He also began to compose and teach. He fell in love with a pupil, Josefina Cermáková, but when she rejected him he married her younger sister, Anna, in 1873.
By 1874 Dvořák had already completed four symphonies and two operas. That year he achieved his first real breakthrough when he entered several compositions in a competition intended to help struggling young artists. The jury included Brahms, who recognized Dvořák's talent, awarded him first prize, and took a fatherly interest in promoting his career.
Brahms recommended Dvořák to his own publisher, who in 1878 commissioned a set of eight orchestral Slavonic Dances and within a year had published them, together with three Slavonic Rhapsodies, a Serenade for wind instruments, a String Sextet and Quartet, songs, and piano duets. The infectiously tuneful Slavonic Dances in particular were a huge success, and assured Dvořák's international reputation.
England
From then on, Dvořák's works were performed as far afield as London and NewYork. In 1882 August Manns conducted the Sixth Symphony at the Crystal Palace in London, and the Stabat Mater was performed with great success in London the following year.
In 1884 Dvořák visited England for the first time, conducting some of his own works, including the Sixth Symphony and the Scherzo capriccios for orchestra. He was immediately invited to write a new symphony (the Seventh, in D minor) for the Royal Philharmonic Society, and two large-scale choral works for the Birmingham and Leeds Festivals: the dramatic cantata The Spectre's Bride for Birmingham, and the oratorio St Ludmila for Leeds.
London also saw the performance in 1887 of the Symphonic Variations, conducted by Hans Richter, and, in 1890, of the Eighth Symphony – often known as the English, although it is a thoroughly "Bohemian" work. The next year Dvořák received an honorary doctorate from Cambridge University.
America
In 1891 he was invited to become director of the new National Conservatory of Music in NewYork, at a very attractive salary. Dvořák spent five months touring Bohemia with several new works – including the Dumky Piano Trio and a cycle of three overtures, V přírodě (In Nature's Realm), Carnaval, and Othello – before sailing for New York in spring 1892.
He spent three years there, teaching, conducting, and composing. The Ninth Symphony (From the New World), the American String Quartet and Quintet, the Cello Concerto (whose coda reflects Dvořák's grief at hearing of the death of his sister-in-law Josefina), and the charming Violin Sonatina (dedicated to his six children) were all composed there. Several of these works show the influence of American folk music, especially the African-American spiritual.
Return to Prague
The lure of his native Bohemia eventually proved too strong, and after 1895 Dvořák decided not to return to America. Instead he resumed teaching at the Prague Conservatory, and spent time with his family. The last decade of his life produced many new works, including two string quartets, four symphonic poems based on Czech folk tales – Vodník (The Water Goblin), Zlaty kolovrat (The Golden Spinning-wheel), Polednice (The Noonday Witch), and Holoubek (The Wild Dove), 1896–1897 – and his two best-known operas, Cert a Káca (Kate and the Devil, 1899) and Rusalka (1900), both based on fairy-tales. He died on 1 May 1904, and had a state funeral.
Major works
Nine symphonies, including No. 9 From the New World (1893); Serenade for strings (1875); Stabat Mater (1877); Slavonic Dances (1878 and 1886); Requiem (1890); Cello Concerto in B minor (1895); operas; chamber music; piano music; songs.