chamber music
Australian chamber orchestra.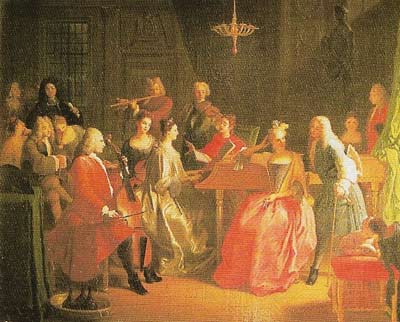 A Musical Evening by Michel Ange (1680–1730). The painting shows a chamber ensemble (harpsichord, cello, violinn, and flute) performing to a group of friends.
This painting by Pieter Fabris shows a group of mid 18th-century chamber musicians playing in Lord Fortrose's apartment in Naples, Italy.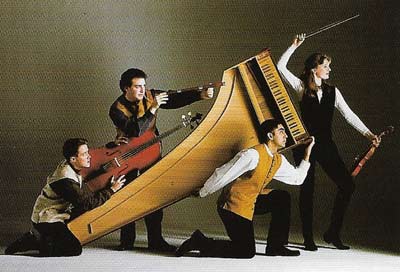 Florilegium was founded in 1991 to play the music of the 17th and 18th centuries.
An 18th-century string quartet playing at double music desks that are reminiscent of the double prayer desks of two centuries earlier.
The English Chamber Orchestra was founded by Arnold Goldsbrough in 1948.
Chamber music is music intended for performance in intimate circumstances for voices or instruments, normally one to a part. The term often implies music to be played for pleasure. A chamber orchestra has variable instrumentation.
Originally, the term "chamber music" described intimate music for small groups of solo instruments performing in a drawing room before either a small audience or with no listeners at all. Chamber music differs from other orchestral music in that generally only a single instrument performs each part, whereas in an orchestra the parts are played by groups of instruments.
Although there had been a lot of small-scale ensemble music in the Middle Ages, the medieval court was a place of public exhibition, with very little opportunity for domestic music-making. However, with the rise of instrumental music and an increasing interest in amateur vocal and instrumental music-making in the 16th century, music began to play an important part in the homes of the well-to-do.
Many great houses maintained one or more professional musicians and in 17th-century Italy some princely establishments appointed musicians who had special responsibility for the performance and composition of chamber music. Monteverdi held such a post in the household of the Duke of Mantua, and his contemporaries in similar posts included Enrico di Foggia and Sigismondo d'India.
Another development of the period was the tendency to arrange vocal music for instruments. From the mid 16th century consort music for viols flourished, with compositions being circulated in manuscript copies. Some were published by composers such as Michael East (c. 1580–1648) and William Byrd (1543–1623), who issued their collections in 1610 and 1611 respectively. During the 16th and 17th centuries many consorts were formed, the music of which led to the invention of new dances such as the slow, stately pavane and the quicker galliard, as well as the musical forms of ricercare and canzona, which in turn led to the development of the 17th-century sonata and fugue.
In the 17th and 18th centuries chamber music was encouraged in Germany by the flourishing collegium musicum, in Italy by the spread of music academies, and in England by the formation of music clubs.
Eighteenth-century chamber music began to include wind instruments, especially in France where music for various combinations of violin, flute, oboe, bassoon, and harpsichord were first published. This flexible instrumentation, much of which included a fully written-out harpsichord part, as opposed to the continuo required hitherto, seems to have been a development prompted by publishers rather than composers.
In the homes of the nobility regular music evenings were held, at which small groups of musicians played for the family and their guests. Some of these groups were professional musicians who were sponsored by the family. One such ensemble was the Rasumovsky Quartet in Vienna, which was founded and paid for by Count Rasumovsky, the Russian ambassador to Vienna, who played second violin in the group. It was considered one of the best in Europe and even Beethoven wrote pieces especially for it.
New instrumentation
In early 20th-century France there was a proliferation of works for combinations unknown before 1900. There was a concentration on the flute and the harp – uncommitted instruments that suited the impressionistic age. Examples include the enchanting Introduction and Allegro by Maurice Ravel (1875-1937) and Debussy's trio, Sonata for Flute, Viola, and Harp. Another French chamber composer who went in for unconventional instrumentation was Pierre Boulez, who scored Le Alarteau sans maitre for flute, viola, guitar, vibraphone, or xylophone and percussion. Igor Stravinsky (1882–1971) was also an innovator and his L'Histoire d'un soldat (1918) was scored for clarinet, bassoon, cornet, trombone, violin, double bass, three actors, and a dancer. However, it will take a lot to beat Schoenberg's scoring of Pierrot Lunaire in 1912. This extraordinary work was written for flute, clarinet, bass clarinet, violin, viola, cello, piano, and a narrator. The inflexions of the latter's voice are included in the score.
Modern chamber music
In the 20th century a reaction against the large Romantic orchestrations of the 19th century led to a renewed interest in chamber music. This was not the chamber music of the past, such as piano trios, string quartets and quintets, but small groups with new sounds and unusual combinations of instruments, with an emphasis on mixed ensembles of wind and strings and often also with vocal as well as percussion elements.
Modern chamber music has moved from the private house to the concert hall, and organizations such as the Library of Congress and the Dutch Donemus Foundation, or wealthy individuals such as Walter Cobbett have been, and still are, active in promoting it.
The original social function and context of chamber music has now wholly disappeared. Much modern chamber music can be both difficult to play and demanding to listen to. It is often written for highly skilled and specialized individuals, and might offer little to the amateur performer, who instead takes refuge in more accessible works from earlier eras.
String quartet
This chamber group was evolved by Joseph Haydn while he was employed by the Esterhazy family at Eisenstadt near Vienna in the late 1750s. For the first time, chamber music abandoned the harpsichord and the new ensemble may have been used for outdoor serenades, for which it was too much trouble to carry the harpsichord outside. Altogether, Haydn smote over 70 quartets, most of them in sets of six.
One of the novel features of the string quartet was that all the instruments had an equal share of the tunes, and for this reason the music was fun to play. This is still the case today: the sign of a good string quartet is a sense of equality.
The string quartet (like the brass band) suffers from a lack of colour contrasts – but this can be overcome not only by the differences in tone between the instruments, but by the way they are played. For instance, the instruments can be either played with the bow (coll'arco) or plucked with the fingers (pizzicato). The violin player may play notes on the G string that would normally be played on other strings. This gives a warmer quality to the sound.
Another trick to thicken the sound is the use of double-stopping, in which more than one string is played on an instrument at the same time. Two composers who used double-stopping to great effect were Debussy and Grieg. Contrasts can also be achieved by resting instruments before bringing them all in together for a climax. Haydn, Mozart, and Beethoven were all masters of the string quartet and often doubled instruments for special effects.
In the 18th century it was taken for granted that music should be composed with amateur capabilities in mind. However, if a composer writes simple music today it is sometimes frowned upon and regarded as fit only for learner musicians. Although Mozart, Beethoven, and Schubert all enjoyed writing string quartets, the form died out in the 19th century, but was revived in the 20th century, notably by Bartok and Shostakovich. Other 20th-century composers who arc noted for their string quartets are Schoenberg, Hindemith, Walton, and Tippett, whose five quartets included influences from the 16th-century madrigal.
An early 19th-century quartet playing at a quadruple desk especially designed for quartets.
Chamber orchestras
After World War I, economic factors saw an end to some of the large orchestras that had been dominant at the beginning of the 20th century, and composers increasingly wrote for smaller combinations of instruments. In the decades between the two World Wars a number of chamber orchestras were founded, the best known of which was the Basle Chamber Orchestra, which was set up in 1926 and was conducted by Paul Sacher.
In London, the Boyd Noel String Orchestra was founded in 1933. In an attempt to get the best of both worlds, it adopted an 18th-century repertoire and instrumentation while at the same time encouraging contemporary composers to write new works for it. In an attempt to stimulate interest in chamber music, similar orchestras, such as the Swiss Melos Ensemble, were founded all over Europe.