Dunlop, James (1793–1848)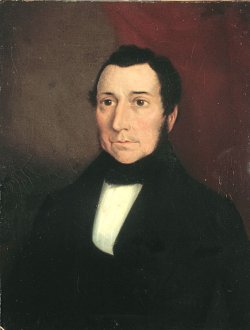 Painting of James Dunlop by Joseph Backler (c. 1843), courtesy of State Library of New South Wales.
James Dunlop was a Scottish astronomer who discovered numerous celestial objects, including galaxies, nebulae, and star clusters, including NGC 5128 (the optical counterpart of the powerful extragalactic radio source Centaurus A) and the globular cluster NGC 2808. Of those who contributed to the New General Catalogue and Index Catalogue, and are mentioned by Dreyer in his original catalogues, Dunlop has 225 NGC objects and 11 IC objects to his name.
Born in Ayrshire, Dunlop did much of his observational work in Australia at the Parramatta Observatory in Sydney, to which he was appointed assistant (along with Carl Rümker) in 1821. From 1823 to 1827 he carried out some 40,000 observations which formed the basis of the Parramatta Catalogue of Stars and, with an instrument he built himself, made further observations for his catalogues of nebulae and star clusters, and double stars.