extrusive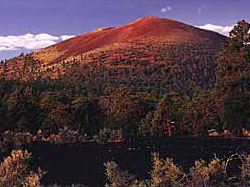 Sunset Crater National Monument: a cinder cone, composed of extrusive rock. Credit: USGS.
Extrusive is descriptive of igneous rocks that have erupted onto the surface. Extrusive, or volcanic, igneous rock is produced when magma exits and cools outside of, or very near the Earth's surface. These are the rocks that form at erupting volcanoes and oozing fissures. The magma, called lava when molten rock erupts on the surface, cools and solidifies almost instantly when it is exposed to the relatively cool temperature of the atmosphere.
Quick cooling means that mineral crystals don't have much time to grow, so these rocks have a very fine-grained or even glassy texture. Hot gas bubbles are often trapped in the quenched lava, forming a bubbly, vesicular texture. Pumice, obsidian, and basalt are all extrusive igneous rocks.