Mars Pathfinder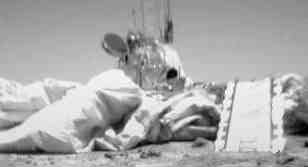 The Pathfinder lander with deployed airbags and ramp which the Sojourner rover used to descend to the surface. Photo from Sojourner looking back.
Mars Pathfinder was a NASA Mars lander which deployed the first martian rover – a miniature 10-kilogram vehicle called Sojourner. Pathfinder was the first successful Mars landing since Viking and the second mission in NASA's Discovery Program.
Pathfinder was launched on 4 December 1996 and landed in the Ares Vallis region on Mars on 4 July 1997. Shortly after its arrival, the Sojourner rover was deployed. The primary goals of the mission were to study the martian atmosphere, surface meteorology, elemental composition of the rocks and soil, and the geology (or 'areology') of the landing site. During almost 3 months of operation (nearly three times longer than its design lifetime of 30 days), Pathfinder returned more than 16,000 images from the lander and 550 from the rover, carried out 15 chemical analyses of rocks, and gathered extensive data on winds and other aspects of the weather.
Among the science highlights of the mission were the discovery that the rock size distribution at the site was consistent with a flood-related deposit, the rock chemistry might be different to that of the SNC meteorites, and dust is the main absorber of solar radiation in the martian atmosphere. Pathfinder was operated by the Jet Propulsion Laboratory and renamed the Sagan Memorial Station in honor of the late Carl Sagan.
| | |
| --- | --- |
| launch date | Dec 4, 1996 |
| launch vehicle | Delta 7925 |
| launch site | Cape Canaveral |