Orbiting Solar Observatory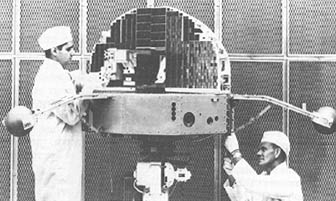 OSO-3 undergoing spin-balance tests before launch.
Orbiting Solar Observatory (OSO) was a series of stabilized orbiting platforms developed by the Goddard Space Flight Center for observing the Sun and extrasolar sources at ultraviolet, X-ray, and gamma-ray wavelengths. OSO-1 was the first satellite to carry onboard tape recorders for data storage and instruments that could be accurately pointed.
The two-section observatory was stabilized because the lower section, the "wheel," spun as a gyroscope at a near constant 30 rpm. The upper fan-shaped section, the "sail," was joined to the wheel by a connecting shaft and remained pointed at the Sun during the OSO daytime. Experiments in the wheel scanned the Sun every two seconds and those in the sail pointed continuously at the Sun.
Other results of the OSO series included the first full-disc photograph of the solar corona, the first X-ray observations from a spacecraft of a beginning solar flare and of solar streamers – structures in the corona – and the first observations of the corona in white light and extreme ultraviolet.
| | | | | | |
| --- | --- | --- | --- | --- | --- |
| spacecraft | launch date | launch vehicle | launch site | orbit | mass (kg) |
| OSO-1 | Mar. 7, 1962 | Delta | Cape Canaveral | 522 × 553 km × 32.8° | 208 |
| OSO-2 | Feb 3, 1965 | Delta C | Cape Canaveral | 294 × 306 km × 32.8° | 247 |
| OSO-C | Aug 25, 1965 | Delta C | Cape Canaveral | launch failure | 280 |
| OSO-3 | Mar 8, 1967 | Delta C | Cape Canaveral | 546 × 570 km × 32.8° | 281 |
| OSO-4 | Oct 15, 1967 | Delta C | Cape Canaveral | 552 × 555 km × 32.9° | 272 |
| OSO-5 | Jan 22, 1969 | Delta C | Cape Canaveral | 538 × 559 km × 33.0° | 291 |
| OSO-6 | Aug 9, 1969 | Delta N | Cape Canaveral | 489 × 554 km × 32.9° | 290 |
| OSO-7 | Sep 29, 1971 | Delta N | Cape Canaveral | 326 × 572 km × 33.1° | 635 |
| OSO-8 | Jun 21, 1975 | Delta 1914 | Cape Canaveral | 539 × 553 km × 32.9° | 1,066 |