Pal, George (1908–1980)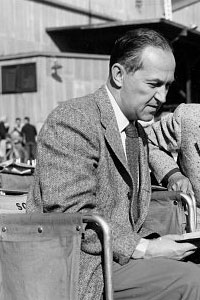 George Pal was a Hungarian-born puppeteer, special effects expert, producer and director whose long and influential career emphasized films of fantasy and science fiction. Pal's movies earned five Academy Awards for special effects and were significant in helping to bring the genre out of low-budget disrepute into big-budget respectability in the 1950s.
After studying cartooning and animation, Pal began his career at the Hunnia Film Studio in Budapest, then worked as as set designer for the important UFA Studios in Germany in 1931. After Hitler's rise to power, Pal moved to Paris and began making stop-motion animated shorts and commercials, which he called Puppetoons. He came to the United States in 1939 and was soon hired by Paramount, where he produced a series of Puppetoon shorts that the studio hoped would compete with Walt Disney's cartoons. The series proved popular and went on until 1947, when rising production costs rendered it too expensive.
Pal's work with special effects in live-action films began with The Great Rupert (1948), which features an animated squirrel along with Jimmy Durante. Its commercial success allowed its producers, Eagle Lion Films, to finance Pal's next project, Destination Moon, based on Robert Heinlein's book Rocketship Galileo (1947). Both the author and rocket expert Hermann Oberth, who had consulted on Fritz Lang's Die Frau im Mond (Woman in the Moon, 1929), were hired as technical advisers, and the film displays an impressive attention to scientific realism. It was one of the first popular SF movies and helped launch that decade's spate of SF film production. Pal then produced a series of major SF films with large budgets for Paramount, beginning with When Worlds Collide (1951).
A number of these movies – War of the Worlds (1953), The Naked Jungle (1954), Conquest of Space (1955) and The Power (1967) – were directed by Pal's friend and collaborator, Byron Haskin, himself a former special effects artist. Some of the films also feature the work of Gordon Jennings, Paramount's top special effects expert during the 1950s. All are lavishly produced and possess state-of-the-art effects for their time. Pal himself directed The Time Machine (1960), his most financially successful production.