When Worlds Collide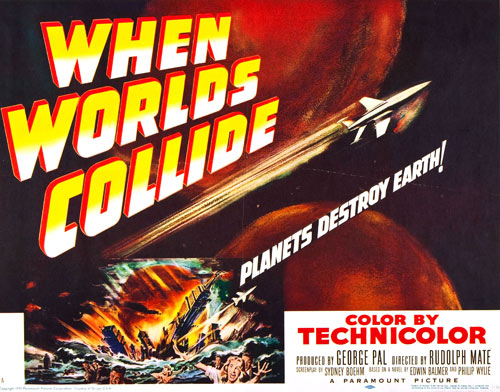 When Worlds Collide promotional poster.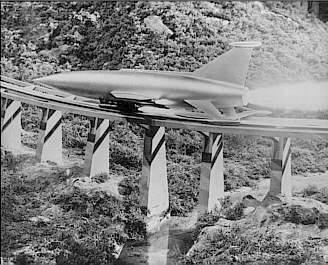 The Space Ark speeds down its launch rail prior to lift-off.
Novel
When Worlds Collide is a 1933 science fiction novel by Philip Wylie (1902–1971) and Edwin Balmer (1883–1959), of enduring appeal, in which two rogue planets, Bronson Alpha and Bronson Beta, hurtle toward the solar system – one of them on a direct collision course with Earth. As the interlopers approach, earthquakes, volcanic eruptions, and giant tidal waves devastate our planet. In North America, a team of scientists race to build a spacecraft that will ferry them to the second of the two alien worlds, which will enter orbit around the Sun after its sister planet and Earth have been destroyed. Wylie and Balmer also wrote a sequel called After Worlds Collide, in which the survivors find evidence of an alien civilization on their new home planet.
Film (1951)
Paramount bought the film rights to the story in 1934 and intended it as a project for Cecil B. DeMille. In fact, De Mille chose to make Cleopatra instead and it was not until 1951 that When Worlds Collide was brought to the big screen by George Pal. Among the plot differences between the film and novel, the two interloping planets, Bronson Alpha and Beta, are replaced in the screen version by a star, Bellus, which destroys the Earth, and its planet Zyra, to which the few survivors escape in their Space Ark.
Directed by Rudolph Mate; screenplay by Sydney Boehm; photographed by John F. Seitz and W. Howard Greene; music by Leith Stevens. Chesley Bonestell whose paintings were used in Pal's previous film, Destination Moon, served as technical advisor and illustrator. Bonestall designed the Space Ark. 83 minutes. Color.
Pal wanted to film the novel's sequel, After Worlds Collide, which depicted the struggle of human survivors on the alien planet. However, the failure of his film Conquest of Space (1955) badly damaged his career and the sequel was never made.
Trivia
In the final shot we the Ark passengers are seen disembarking with an obvious painted background depicting Zyra. This low-quality matte painting was tacked on for the film's sneak previews. Originally, George Pal wanted to depict Zyra as a miniature set, but Paramount shipped the film out before this could be done. Depicted in the painting are the ruins of a building with rectangular openings and also two pyramids, obviously built by intelligent life yet no one appears to notice them.
Cast
Richard Derr – David Randall
Barbara Rush – Joyce Hendron
Peter Hansen – Dr. Tony Drake
John Hoyt – Sydney Stanton
Larry Keating – Dr. Cole Hendron
Rachel Ames – Julie Cummings
Stephen Chase – Dr. George Frye
Frank Cady – Harold Ferris
Hayden Rorke – Dr. Emery Bronson
Sandro Giglio – Dr. Ottinger