cataract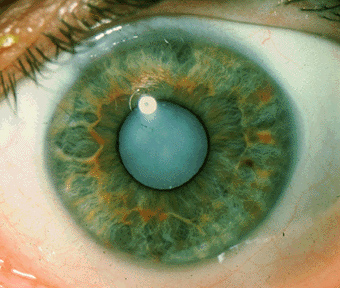 A cataract is a disease of the eye lens, regardless of the cause; the normally clear lens becomes opaque and light transmission and perception are reduced. Congenital cataracts occur especially in children born to mothers who have had rubella in early pregnancy, and in a number of inherited disorders. Certain disturbances of metabolism or hormone production can cause cataracts, especially diabetes. Eye trauma and inflammation are other causes in adults. Some degree of cataract formation is common in old age. It is among the commonest causes of blindness in developed countries.
Types of cataract
Although most cataracts are related to aging, there are other types of cataract:
Secondary cataract. Cataracts can form after surgery for other eye problems, such as glaucoma. Cataracts also can develop in people who have other health problems, such as diabetes. Cataracts are sometimes linked to steroid use.
Traumatic cataract. Cataracts can develop after an eye injury, sometimes years later.
Congenital cataract. Some babies are born with cataracts or develop them in childhood, often in both eyes. These cataracts may be so small that they do not affect vision. If they do, the lenses may need to be removed.
Radiation cataract. Cataracts can develop after exposure to some types of radiation.
How cataracts affect vision
Age-related cataracts can affect your vision in two ways:
Clumps of protein reduce the sharpness of the image reaching the retina.

The lens consists mostly of water and protein. When the protein clumps up, it clouds the lens and reduces the light that reaches the retina. The clouding may become severe enough to cause blurred vision. Most age-related cataracts develop from protein clumpings.

When a cataract is small, the cloudiness affects only a small part of the lens. You may not notice any changes in your vision. Cataracts tend to "grow" slowly, so vision gets worse gradually. Over time, the cloudy area in the lens may get larger, and the cataract may increase in size. Seeing may become more difficult. Your vision may get duller or blurrier.
The clear lens slowly changes to a yellowish/brownish color, adding a brownish tint to vision.

As the clear lens slowly colors with age, your vision gradually may acquire a brownish shade. At first, the amount of tinting may be small and may not cause a vision problem. Over time, increased tinting may make it more difficult to read and perform other routine activities. This gradual change in the amount of tinting does not affect the sharpness of the image transmitted to the retina.

If you have advanced lens discoloration, you may not be able to identify blues and purples. You may be wearing what you believe to be a pair of black socks, only to find out from friends that you are wearing purple socks.
Treatment
The symptoms of early cataract may be improved with new eyeglasses, brighter lighting, anti-glare sunglasses, or magnifying lenses. If these measures do not help, surgery is the only effective treatment. Surgery involves removing the cloudy lens and replacing it with an artificial lens.
A cataract needs to be removed only when vision loss interferes with your everyday activities, such as driving, reading, or watching TV. You and your eye care professional can make this decision together. Once you understand the benefits and risks of surgery, you can make an informed decision about whether cataract surgery is right for you. In most cases, delaying cataract surgery will not cause long-term damage to your eye or make the surgery more difficult. You do not have to rush into surgery.
Sometimes a cataract should be removed even if it does not cause problems with your vision. For example, a cataract should be removed if it prevents examination or treatment of another eye problem, such as age-related macular degeneration or diabetic retinopathy. If your eye care professional finds a cataract, you may not need cataract surgery for several years. In fact, you might never need cataract surgery. By having your vision tested regularly, you and your eye care professional can discuss if and when you might need treatment.
If you choose surgery, your eye care professional may refer you to a specialist to remove the cataract.
If you have cataracts in both eyes that require surgery, the surgery will be performed on each eye at separate times, usually four to eight weeks apart.
Many people who need cataract surgery also have other eye conditions, such as age-related macular degeneration or glaucoma. If you have other eye conditions in addition to cataract, talk with your doctor. Learn about the risks, benefits, alternatives, and expected results of cataract surgery.
Cataract surgery
There are two types of cataract surgery. Your doctor can explain the differences and help determine which is better for you:
Phacoemulsification, or phaco. A small incision is made on the side of the cornea, the clear, dome-shaped surface that covers the front of the eye. Your doctor inserts a tiny probe into the eye. This device emits ultrasound waves that soften and break up the lens so that it can be removed by suction. Most cataract surgery today is done by phacoemulsification, also called "small incision cataract surgery."
Extracapsular surgery. Your doctor makes a longer incision on the side of the cornea and removes the cloudy core of the lens in one piece. The rest of the lens is removed by suction.

After the natural lens has been removed, it often is replaced by an artificial lens, called an intraocular lens (IOL). An IOL is a clear, plastic lens that requires no care and becomes a permanent part of your eye. Light is focused clearly by the IOL onto the retina, improving your vision. You will not feel or see the new lens.

Some people cannot have an IOL. They may have another eye disease or have problems during surgery. For these patients, a soft contact lens, or glasses that provide high magnification, may be suggested.
As with any surgery, cataract surgery poses risks, such as infection and bleeding. Before cataract surgery, your doctor may ask you to temporarily stop taking certain medications that increase the risk of bleeding during surgery. After surgery, you must keep your eye clean, wash your hands before touching your eye, and use the prescribed medications to help minimize the risk of infection. Serious infection can result in loss of vision.
Cataract surgery slightly increases your risk of retinal detachment. Other eye disorders, such as high myopia (nearsightedness), can further increase your risk of retinal detachment after cataract surgery. One sign of a retinal detachment is a sudden increase in flashes or floaters. Floaters are little "cobwebs" or specks that seem to float about in your field of vision. If you notice a sudden increase in floaters or flashes, see an eye care professional immediately. A retinal detachment is a medical emergency. If necessary, go to an emergency service or hospital. Your eye must be examined by an eye surgeon as soon as possible. A retinal detachment causes no pain. Early treatment for retinal detachment often can prevent permanent loss of vision. The sooner you get treatment, the more likely you will regain good vision. Even if you are treated promptly, some vision may be lost.