mineral

Figure 1. A crystal is a solid in which the molecules, atoms or ions are arranged along regular and repetitive lattices, its external shape reflecting its internal symmetry. Not all crystals are minerals – sugar (A) is a crystalline organic substance. Opal (B) is an "amorphous" mineral without a crystalline internal structure. Calcite (C), as most minerals, is crystalline.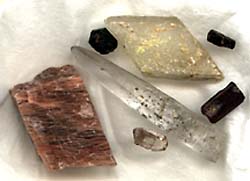 Figure 2. A selection of minerals. Credit: US Geological Survey.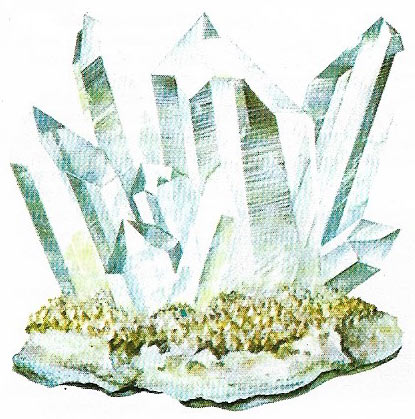 Figure 3. Where a mineral such as quartz grows unimpeded it shows its typical "automorphic" shape, with plane faces that reflect the internal lattice structure of its atoms.
Figure 4. The last minerals to crystallize in a rock are crowded by the others and are xenomorphic – unable to assume their normal external crystalline form. They have irregular shapes although the internal crystalline lattice is retained. This section of granite contains xenomorphic quartz crystals (shown gray) surrounded by automorphic felspar crystals.

Figure 5. Pseudomorphism is the replacement of one mineral with an external crystal shape by another that is in every way identical in shape and volume, but not in internal crystalline lattice. The quartz shown is forming a pseudomorph of a fluorite crystal that was dissolved. The quartz would normally form a six-sided prism but had filled the octahedral shape of the fluorite.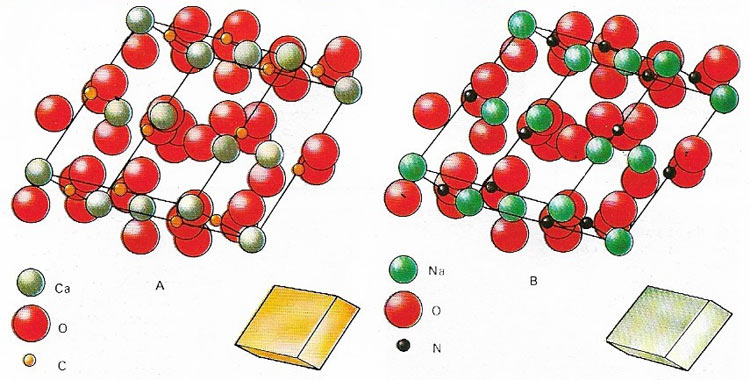 Figure 6. Minerals of different chemical composition may possess identical lattice structures and will have similarly shaped crystal faces under normal circumstances. This is called isomorphism and is shown for calcite (A) and soda-nitre (B) crystals. Because of a near similarity in size the ions of isomorphic minerals can readily substitute for each other in the structure of a crystal if they are also chemically similar.
Figure 7. Compounds that can assume more than one crystalline structure are said to be polymorphous and they form different kinds of minerals. The type of crystal lattice in which the compound will crystallize is determined by the pressure and temperature at the time of formation. Kyanite, sillimanite and andalusite are three different crystal types and minerals of the same silicate compound is common in metamorphic rocks.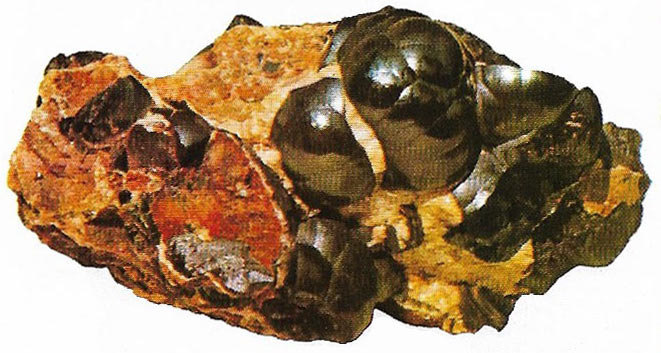 Figure 8. Mineral identification seldom needs the complexities of a laboratory and is in fact an easy and fascinating hobby. Hematite, an iron ore, is identified by its color, hardness and density. Rubbed against a piece of unglazed china, it leaves a dark red streak. It scratches glass but is not scratched by a knife. It is heavy. In further tests, powdered and heated in a blue (reducing) flame it becomes magnetite and will be picked up by a magnet after cooling. Heated in concentrated hydrochloric acid it will dissolve and color the acid rust. Cut into thin sections in laboratory tests it will be shown to be black or red in transmitted light, but bright and metallic when exposed to reflected light.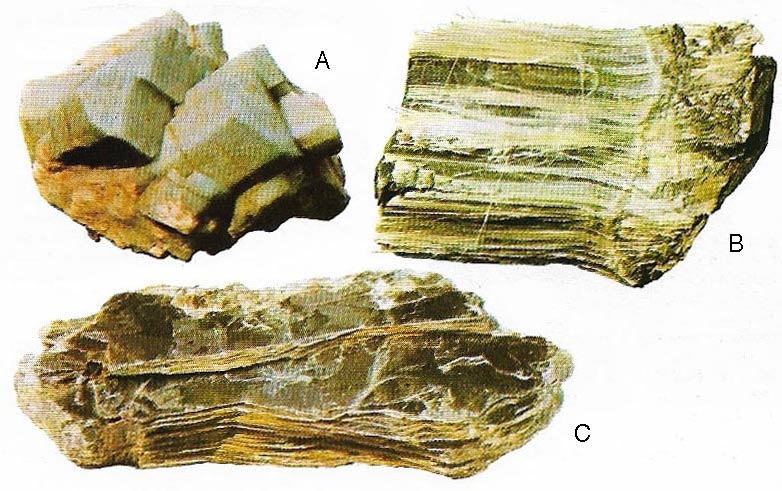 Figure 9. Silicates are by far the most common and important rock-forming minerals. Their basic framework is the tetrahedron formed by silicon surrounded by four oxygen atoms. These tetrahedrons can form chains as in asbestos (B), sheets as in mica (C) and three-dimensional structures as in orthoclase felspar (A) and quartz. Felspars are the most abundant of rock-forming minerals in the earth's crust.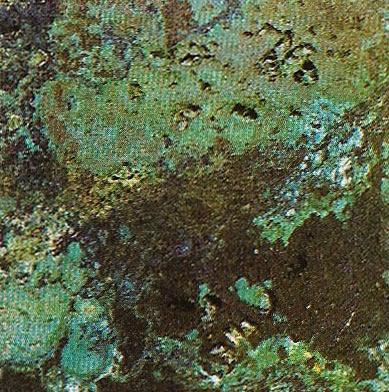 Figure 10. Malachite is a copper carbonate. Carbonates, which are second only to silicates in abundance, are formed by carbon, oxygen and one or more metals and sometimes water.
Figure 11. Elements are obtained from minerals in different ways, according to their position on the periodic table. In the red group are reactive metals usually extracted by electrolysis. In the orange group, the elements frequently occur in ionic compounds, often combined with oxygen. These elements are often prepared by electrolysis. The third group (colored green) is commonly found as sulfides and the elements are obtained by roasting these and reducing the resultant oxides. Group four (colored yellow) are relatively unreactive elements, found free or as compounds that give the elements when they are heated to a certain temperature. The fifth group (light brown) are non-metals that occur free or as negative ions that can be converted to elements by electrolysis.
A mineral is a naturally-occurring inorganic element or compound that has an orderly internal structure and characteristic chemical composition, crystal morphology, and physical properties. Minerals are the fundamental units from which most rocks are made. Of the 3,000 or so minerals known, fewer than 100 are common.
The economic minerals such as precious stones and the ores of useful metals are those that usually come to mind when minerals are mentioned, but these actually represent a small part of the mineral kingdom. The largest components are the rock-forming minerals, the building blocks from which the Earth's crust and all its rocks are constructed. These can be so attractive, their great variety of crystal shapes and range of colours, that finding and collecting minerals has been a popular hobby for thousands of years.
Constituents of rocks
Minerals are defined as naturally occurring inorganic substances made up of one or more elements. Most have a constant chemical composition and are usually crystalline (Figures 1 and 2). There are exceptions to this, however. Some minerals, such as opal (Figure 1B), are non-crystalline and in others the chemical composition varies; in olivines and pyroxenes, for example, the proportions of magnesium and iron are not constant.
The quantities of the Earth's elements are reflected in their relative abundance in minerals. The element oxygen is most abundant, thus a large number of minerals contain oxygen. Hematite (Figure 8) is an oxide of iron. Silicon is the next most abundant, so silica, the oxide of silicon, plays a large part in the composition of minerals. Quartz (Figures 3 and 4) can be pure silica and is an extremely common mineral but the silica is more often found in combination with other elements to produce the numerous rock-forming minerals known as silicates. Olivine, for instance, is a common silicate mineral in igneous rocks where no pure quartz is present and consists of silica combined with varying amounts of iron and magnesium. Other groups of minerals found are compounds of sulfur such as anhydrite, gypsum (Figure 9), and galena, and carbonates such as calcite (Figure 1C) and malachite (Figure 10). Occasionally, as with native copper and gold, a mineral has only one element.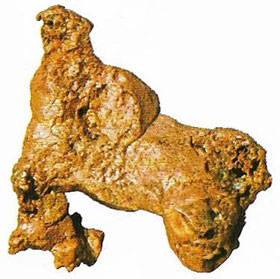 Gold – like silver, copper, and sulfur – is a naturally occurring native element found in igneous formations but as such low concentrations that it can hardly be said to be an ore.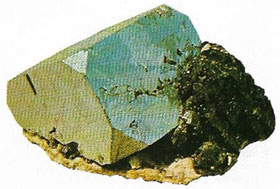 Galena is lead sulfide. Sulfides are formed by the combination of one or more metals with sulfur and provide many commercially valuable ores.
Oxygen combined with one or more metals forms the oxide minerals. Cassiterite (SnO2), a reddish-brown mineral with a distinctive, pyramid-ended structure, is tin oxide.
Rock salt or halite is sodium chloride, a mineral found in thick deposits precipitated during the evaporation of shallow seas and lakes, such as those in Utah.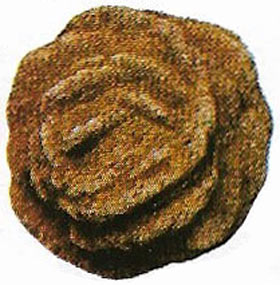 Sulfates are made of a sulfur oxide combined with a metal; gypsum, which also contains water, is the most common. Barite can assume shapes like the "desert rose" shown here.
Many minerals crystallize from the molten state. The overall composition of magma, the molten material from which igneous rocks are formed, is fairly constant but when it starts to solidify the materials that crystallize out vary greatly from place to place. The resulting rock has a composition very different from that of another rock formed elsewhere from the same magma.
Formation of minerals
Olivines have a high melting point so they tend to crystallize first from a cooling magma. Once crystallized they may sink to the bottom of the magma chamber and leave the rest of the liquid deficient in iron and magnesium. Other minerals such as felspar (Figures 4 and 9A), in which sodium, calcium, potassium and aluminium combine with what silica is left, then crystallize out, leaving a cooling magma with yet another composition that solidifies into even more minerals.
Minerals sometimes occur in veins. A vein is a mineral formation of far greater extent in two dimensions than in the third. Sheetlike fissure veins occur where fissures formed in the rock become filled with mineral. Ladder veins formed in series of fractures in, for example, dikes. Saddle veins are lens-shaped, concave below and convex above. Veins that contain economically important ores are often termed lodes.
Some minerals are formed in sedimentary environments. For example, when seawater evaporates in restricted basins the salts dissolve in it are crystallized out and form sedimentary rocks consisting of minerals such as halite (sodium chloride) and gypsum (hydrated calcium sulfate).
Other minerals form under metamorphic conditions where the minerals of rocks already formed are are altered by heat or pressure to produce new minerals. Kyanite (an aluminium silicate) is found in schists formed under great pressure while andalusite (which has the same chemical composition) is formed when rocks are altered under conditions of moderate heat and low pressure (Figure 7). Related to the metasomatism – the movement of hot fluids from igneous bodies through rocks already present. Quartz is often formed by these movements as well as by the more usual process of direct crystallization from a molten magma.
Mineral identification
Minerals may be identified by their color (though this often varies because of impurities), hardness (measured on Moh's scale), luster (the way in which light is reflected from the surface), specific gravity, crystal forms, and cleavage; or by chemical analysis and X-ray diffraction.
The crystal shape is a good clue, but it is rarely well defined because the minerals usually suffer from the effects of weather before they are studied, or lack definite shapes due to being formed too close to other growing crystals. Akin to this is the way a mineral breaks, the fractures formed being related to the crystal lattice.
Minerals are generally classified by their anions (negative ions) – in order of increasing complexity:
elements
,
sulfides
,
oxides
,
halides
,
carbonates
,
nitrates
,
sulfates
,
phosphates
, and
silicates
. Others are classed with those which they resemble chemically and structurally, e.g., arsenates with phosphates. Minerals can also be classified by their topological structure.
Rocks, such as granite or sandstone, are mixtures of minerals. Their compositions can vary widely and cannot be approximated by a mineral formula.
Mineralogy
Mineralogy is the investigation of minerals – naturally occurring inorganic substances found on Earth and elsewhere in the Solar System. Major subdivisions are: crystallography, which studies the composition and atomic arrangement of minerals; paramagnetic mineralogy, which deals with the associations and order of crystallization of minerals; descriptive mineralogy, concerned with the physical properties used in identification of minerals; and taxonomic mineralogy, the classification of minerals by chemical and crystal type.