White Sands Missile Range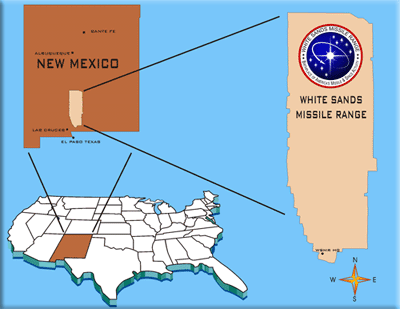 White Sands Missile Range is a test range whose main function is to support missile development and test programs for the US Army, Navy, and Air Force, NASA, other government agencies and private industry. Formerly known as White Sands Proving Ground, it is one of the largest military facilities in the United States, covering an area of about 10,400 km2 (4,000 sq miles) – larger than the states of Delaware and Rhode Island combined. White Sands Missile Range (WSMR) is located in the Tularosa Basin of south-central New Mexico, between the Organ Mountains and the Sacramento Mountains.
The "white sands" are actually gypsum crystals that have leached out of the surrounding mountains. A distinctive ecology survives in this desert. Visitors may explore the dunes in the White Sands National Monument, located in the range.
History
Like most large military installations in the Western United States, White Sands Proving Ground was created during World War II. It was officially established on Jul 9, 1945, one week before the world's first nuclear explosion, the Trinity test, took place at its northern end. A launch complex was quickly set up and used for the site's first "hot firing", of a Tiny Tim missile, on 26 September 1945. Soon this complex was the focal point for captured V-2 launches and, in time, the developmental testing of most of the missile systems that entered the US arsenal, including Nike, Viking, Corporal, Lance, and Multiple Launch Rocket Systems.
Additional launch facilities, associated with the range, were set up in other parts of New Mexico, as well as Utah and Idaho, for long-range testing. In such tests, missiles from these locations fly over the countryside and impact on White Sands.
NASA used the White Sands range for testing the Saturn's launch escape system and, later, the engines, components, and materials of the Space Shuttle Orbiter.
Current operations
White Sands provided an alternate landing site for the Shuttle, known as White Sands Space Harbor (formerly Northrup Strip), 72 km (45 miles) due north of WSMR Headquarters, though it was only been used once for this purpose. On 30 March 1982, the Orbiter Columbia touched down on the Northrup Strip after its third flight into space (mission STS-3), when both Kennedy Space Center in Florida and Edwards Air Force Base in California were unable to accommodate a landing due to bad weather. In the movie SpaceCamp, the shuttle is depicted as landing here after missing a chance to land at Edwards. Shuttle astronauts trained over White Sands Space Harbor, practicing landings in a Gulfstream jet that simulated Orbiter glide characteristics. The ground terminal of NASA's TDRSS (Tracking and Data Relay Satellite System) is also located at the range.
In addition to the armed services and NASA, many aerospace companies have permanent facilities at WSMR. The range employs 8,800 people, and is under operational control of the US Army Test and Evaluation Command (TECOM), located at Aberdeen Proving Ground, Maryland.
WSMR is located on US 70 between Alamogordo, New Mexico and Las Cruces, New Mexico, and the highway may be closed for safety reasons while tests are conducted on the missile range.