Messier Catalogue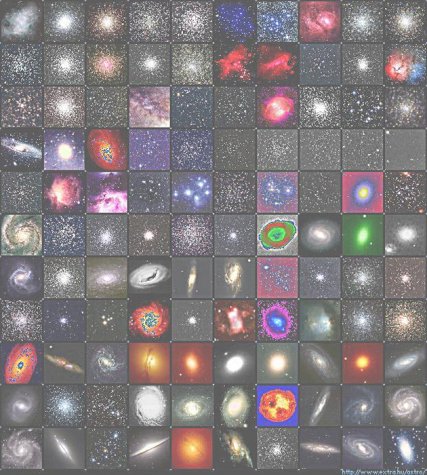 The Messier Catalogue is a list of 110 nebulous-looking celestial objects, including open clusters, globular clusters, diffuse nebulae, planetary nebulae, and galaxies, the first 103 of which were compiled by Charles Messier in the eighteenth century. Almost all of the Messier objects are among the closest to Earth in their respective classes. They remain popular targets for visual study and astrophotography by amateur astronomers and continue to be studied by professionals because of the detail that can be seen in them.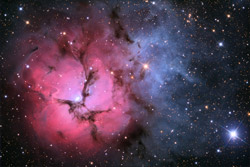 M20, the Trifid Nebula
---
The Messier Catalogue was one of the earliest important astronomical catalogues. Messier's final list, published in 1781, includes discoveries by other observers, notably his colleague Pierre Méchain.
A similar list had been published in 1654 by Giovanni Hodierna, but was probably not known to Messier.
On star charts and in atlases, Messier objects now include the letter 'M' before each number. Among the best known examples are M1 (Crab Nebula), M31 (Andromeda Galaxy), M42 (Orion Nebula), and M45 (Pleiades). Click on the links below for more information on some of the most interesting Messier objects.
| | | | | |
| --- | --- | --- | --- | --- |
| M | NGC | constellation | type of object | common name |
| 1 | 1952 | Taurus | supernova remnant | Crab Nebula |
| 2 | 7089 | Aquarius | globular cluster | |
| 3 | 5272 | Canes Venatici | globular cluster | |
| 4 | 6121 | Scorpio | globular cluster | |
| 5 | 5904 | Serpens | globular cluster | |
| 6 | 6405 | Scorpio | open cluster | Butterfly Cluster |
| 7 | 6475 | Scorpio | open cluster | Ptolemy's Cluster |
| 8 | 6523 | Sagittarius | diffuse nebula | Lagoon Nebula |
| 9 | 6333 | Ophiuchus | globular cluster | |
| 10 | 6254 | Ophiuchus | globular cluster | |
| 11 | 6705 | Scutum | open cluster | Wild Duck Cluster |
| 12 | 6218 | Ophiuchus | globular cluster | |
| 13 | 6205 | Hercules | globular cluster | Great Hercules Cluster |
| 14 | 6402 | Ophiuchus | globular cluster | |
| 15 | 7078 | Pegasus | globular cluster | |
| 16 | 6611 | Serpens | nebula and open cluster | |
| 17 | 6618 | Sagittarius | diffuse nebula | Omega Nebula |
| 18 | 6613 | Sagittarius | open cluster | |
| 19 | 6273 | Ophiuchus | globular cluster | |
| 20 | 6514 | Sagittarius | diffuse nebula | Trifid Nebula |
| 21 | 6531 | Sagittarius | open cluster | |
| 22 | 6656 | Sagittarius | globular cluster | |
| 23 | 6494 | Sagittarius | open cluster | |
| 24 | 6603 | Sagittarius | open cluster | |
| 25 | IC 4725 | Sagittarius | open cluster | |
| 26 | 6694 | Scutum | open cluster | |
| 27 | 6853 | Vulpecula | planetary nebula | Dumbbell Nebula |
| 28 | 6626 | Sagittarius | globular cluster | |
| 29 | 6913 | Cygnus | open cluster | |
| 30 | 7099 | Capricornus | globular cluster | |
| 31 | 224 | Andromeda | spiral galaxy | Andromeda Galaxy |
| 32 | 221 | Andromeda | elliptical galaxy | companion to M31 |
| 33 | 598 | Triangulum | spiral galaxy | Triangulum Galaxy |
| 34 | 1039 | Perseus | open cluster | |
| 35 | 2168 | Gemini | open cluster | |
| 36 | 1960 | Auriga | open cluster | |
| 37 | 2099 | Auriga | open cluster | |
| 38 | 1912 | Auriga | open cluster | |
| 39 | 7092 | Cygnus | open cluster | |
| 40 | - | - | missing (comet?) | |
| 41 | 2287 | Canis Major | open cluster | |
| 42 | 1976 | Orion | diffuse nebula | Orion Nebula |
| 43 | 1982 | Orion | diffuse nebula | part of Orion Nebula |
| 44 | 2632 | Cancer | open cluster | Praesepe |
| 45 | - | Taurus | open cluster | Pleiades |
| 46 | 2437 | Puppis | open cluster | |
| 47 | 2422 | Puppis | open cluster | |
| 48 | 2548 | Hydra | open cluster | |
| 49 | 4472 | Virgo | elliptical galaxy | |
| 50 | 2323 | Monoceros | open cluster | |
| 51 | 5194 | Canes Venatici | spiral galaxy | Whirlpool Galaxy |
| 52 | 7654 | Cassiopeia | open cluster | |
| 53 | 5024 | Coma Berenices | globular cluster | |
| 54 | 6715 | Sagittarius | globular cluster | |
| 55 | 6809 | Sagittarius | globular cluster | |
| 56 | 6779 | Lyra | globular cluster | |
| 57 | 6720 | Lyra | planetary nebula | Ring Nebula |
| 58 | 4579 | Virgo | spiral galaxy | |
| 59 | 4621 | Virgo | elliptical galaxy | |
| 60 | 4649 | Virgo | elliptical galaxy | |
| 61 | 4303 | Virgo | spiral galaxy | |
| 62 | 6266 | Ophiuchus | globular cluster | |
| 63 | 5055 | Canes Venatici | spiral galaxy | Sunflower Galaxy |
| 64 | 4826 | Coma Berenices | spiral galaxy | Black Eye Galaxy |
| 65 | 3623 | Leo | spiral galaxy | |
| 66 | 3627 | Leo | spiral galaxy | |
| 67 | 2682 | Cancer | open cluster | |
| 68 | 4590 | Hydra | globular cluster | |
| 69 | 6637 | Sagittarius | globular cluster | |
| 70 | 6681 | Sagittarius | globular cluster | |
| 71 | 6838 | Sagitta | globular cluster | |
| 72 | 6981 | Aquarius | globular cluster | |
| 73 | 6994 | Aquarius | four faint stars | |
| 74 | 628 | Pisces | spiral galaxy | |
| 75 | 6864 | Sagittarius | globular cluster | |
| 76 | 650 | Perseus | planetary nebula | Little Dumbbell Nebula |
| 77 | 1068 | Cetus | spiral galaxy | |
| 78 | 2068 | Orion | diffuse nebula | |
| 79 | 1904 | Lepus | globular cluster | |
| 80 | 6093 | Scorpio | globular cluster | |
| 81 | 3031 | Ursa Major | spiral galaxy | |
| 82 | 3034 | Ursa Major | irregular galaxy | companion to M81 |
| 83 | 5236 | Hydra | spiral galaxy | |
| 84 | 4374 | Virgo | spiral galaxy | |
| 85 | 4382 | Coma Berenices | spiral galaxy | |
| 86 | 4406 | Virgo | elliptical galaxy | |
| 87 | 4486 | Virgo | elliptical galaxy (Seyfert) | |
| 88 | 4501 | Coma Berenices | spiral galaxy | |
| 89 | 4552 | Virgo | elliptical galaxy | |
| 90 | 4569 | Virgo | spiral galaxy | |
| 91 | 4548 | Coma Berenices | spiral galaxy | |
| 92 | 6341 | Hercules | globular cluster | |
| 93 | 2447 | Puppis | open cluster | |
| 94 | 4736 | Canes Venatici | spiral galaxy | |
| 95 | 3351 | Leo | barred spiral galaxy | |
| 96 | 3368 | Leo | spiral galaxy | |
| 97 | 3587 | Ursa Major | planetary nebulae | Owl Nebula |
| 98 | 4192 | Coma Berenices | spiral galaxy | |
| 99 | 4254 | Coma Berenices | spiral galaxy | |
| 100 | 4321 | Coma Berenices | spiral galaxy | |
| 101 | 5457 | Ursa Major | spiral galaxy | |
| 102 | - | - | unidentified | |
| 103 | 581 | Cassiopeia | open cluster | |
| 104 | 4594 | Virgo | spiral galaxy | Sombrero Galaxy |
| 105 | 3379 | Leo | elliptical galaxy | |
| 106 | 4258 | Ursa Major | spiral galaxy | |
| 107 | 6171 | Ophiuchus | globular cluster | |
| 108 | 3556 | Ursa Major | spiral galaxy | |
| 109 | 3992 | Ursa Major | spiral galaxy | |
| 110 | 205 | Andromeda | elliptical galaxy | companion to M31 |