Sextans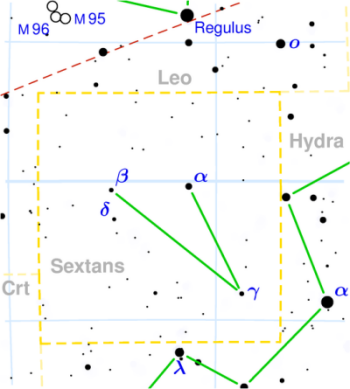 Sextans. © 2003 Torsten Bronger.
Sextans (abbreviation Sex), the Sextant, is a faint constellation on the celestial equator.
Its brightest star is Alpha Sextantis (visual magnitude 4.48, absolute magnitude -0.25, spectral type A0III, distance 287 light-years). Among its deep-sky objects are the Sextans Dwarf and the Spindle Galaxy.
Sextans Dwarf
The Sextans Dwarf is a low-luminosity dwarf elliptical galaxy (dE3) that is a satellite of the Milky Way. Discovered in 1990, it lies at coordinates RA 10h 13.2m, Dec -1° 37', about 290,000 light-years from the galactic center.