Aquila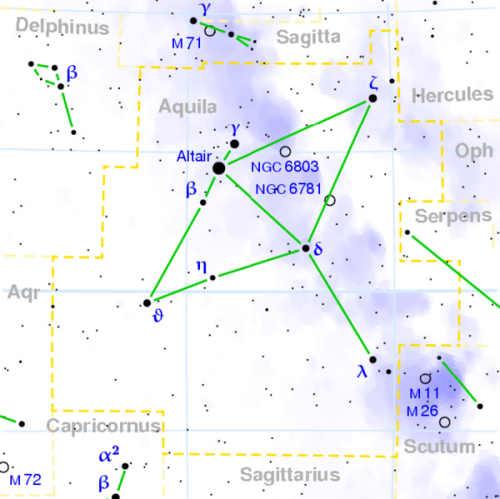 Aquila. © 2005 Torsten Bronger.
Aquila (abbreviation: Aql), the Eagle (of Zeus), is a distinctive constellation on the celestial equator that spreads across many rich fields. Due to a lane of obscuring dust known as the Great Rift, the Milky Way splits in two through this constellation and also through Ophiuchus.
Aquila has been a fruitful hunting ground for nova-seekers, producing four since 1899, including two of the brightest on record. One of these, in AD 389, became as bright as Venus; the other, in 1918, outshone Altair.
See below for details of the constellation's brightest stars and interesting deep sky objects.
NGC 6751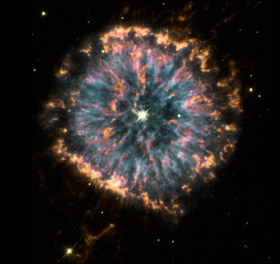 NGC 6751. Hubble Space Telescope image.
---
NGC 6751 is a planetary nebula, about 0.8 light-year in diameter, lying at a distance of about 6,500 light-years. It is also known as the Glowing Eye Nebula.
| | | | | | | |
| --- | --- | --- | --- | --- | --- | --- |
| star | vis mag | abs mag | spec type | distance (ly) | RA (h m s) | Dec (° ' ") |
| Alpha (Altair) | 0.76 | 2.20 | A7V | 16.8 | 19 50 47 | +08 52 06 |
| Gamma (Tarazed) | 2.72 | -3.03 | K3II | 460 | 19 46 15 | +10 36 48 |
| Zeta (Dheneb) | 2.99 | 0.95 | A0Vn | 83 | 19 05 24 | +13 51 48 |
| Theta | 3.24 | -1.49 | B9.5III | 287 | 20 11 18 | -00 49 17 |
| Delta | 3.36 | 2.42 | F3IV | 50 | 19 25 30 | +03 06 53 |
| Lambda (Althalimain) | 3.43 | 0.51 | B9Vn | 125 | 19 06 15 | -04 52 57 |
| Beta (Alshain) | 3.71 | 3.02 | G8IV | 45 | 19 55 19 | +06 24 24 |
| Eta Aquilae | 3.87 | -3.91v | F6Ibv | 1,170 | 19 52 28 | +01 00 20 |
| | | |
| --- | --- | --- |
| name | type of object | notes |
| GRS 1915+105 | star | A star system containing the most massive known stellar black hole |
| NGC 6803 | planetary nebula | A small bright ring. Magnitude 11.4; diameter 6"; RA 19h 29m, Dec +09° 58' |
| NGC 6891 | planetary nebula | A bright disk and faint ring. Magnitude 12; diameter 1.2'; RA 20h 13m, Dec +12° 35' |
| NGC 6709 | open cluster | A loose cluster arranged in a diamond formation with a bright star at each apex. Magnitude 6.7; diameter 13'; RA 18h 49m, Dec +10° 17' |