Columba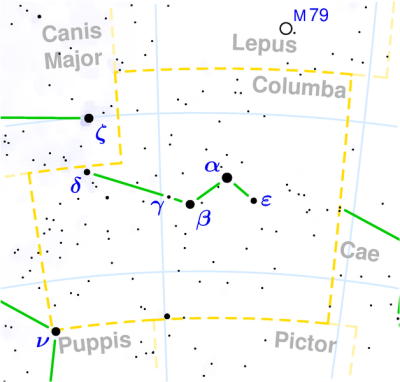 Columba. © 2003 Torsten Bronger.
Columba (abbreviation: Col), the Dove (as released by Noah), is a small southern constellation, the main part of which is a noticeable triangle of stars set into a fairly blank area of sky.
Mu Columbae is a blue star (type O9.5, magnitude 5.16) that is one of three runaway stars diverging from a point in Orion with a speed of about 100 km/s. The other two are AE Aurigae and 53 Arietis. According to one theory, these stars once belonged to a quadruple system, of which the fourth member exploded in a supernova, about 3 million years ago, pushing the other three stars away in different directions.
Columba also contains the globular cluster NGC 1851 (magnitude 7.1; diameter 11'; distance 40,000 light-years; RA 05h 14.1m , Dec -40° 2.8'). See below for details of the constellation's brightest stars.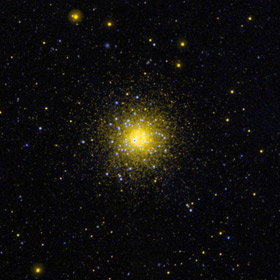 NGC 1851 in ultraviolet. Credit: NASA/Galex.
---
| | | | | | | |
| --- | --- | --- | --- | --- | --- | --- |
| star | vis mag | abs mag | spec type | distance (ly) | RA (h m s) | Dec (° ' ") |
| Alpha (Phakt) | 2.65 | -1.93 | B7IVe | 268 | 05 39 39 | -34 04 27 |
| Beta (Wasn) | 3.12 | 1.01 | K1III | 86 | 05 50 58 | -35 46 06 |
| Delta | 3.85 | -0.46 | G7II | 237 | 06 22 07 | -33 26 11 |
| Epsilon | 3.86 | -0.79 | K1IIa | 277 | 05 31 13 | -35 28 15 |