Corvus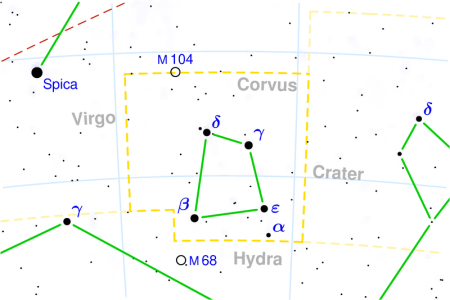 Corvus. © 2003 Torsten Bronger.
Corvus (abbreviation: Crv), the Crow, is a small but fairly conspicuous southern constellation whose four main stars make up an easily distinguished quadrilateral. It lies south and west of Virgo and east of Crater.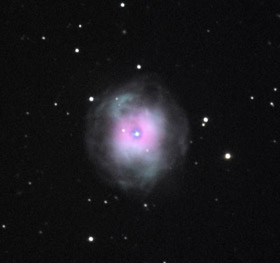 NGC 4361. Credit: Elliot Gellman and Duke Creighton/Adam Block/NOAO/AURA/NSF.
---
Among its premier deep sky objects are the planetary nebula NGC 4361, which is large and reminiscent of the Owl Nebula, with an easily seen central star (magnitude 10.3; diameter 45"; RA 12h 24.5m, Dec –18° 47.1') and the extraordinary interacting galaxies known as the Antennae. See below for details of the constellation's brightest stars.
| | | | | | | |
| --- | --- | --- | --- | --- | --- | --- |
| star | vis mag | abs mag | spec type | distance (ly) | RA (h m s) | Dec (° ' ") |
| Gamma (Minkar) | 2.58 | -0.94 | B8IIIpHgMn | 165 | 12 15 48 | -17 32 31 |
| Beta (Kraz) | 2.65 | -0.51 | G5II | 140 | 12 34 23 | -23 23 48 |
| Delta (Algorab) | 2.94 | 0.78 | B9.5V | 88 | 12 29 52 | -16 30 55 |
| Epsilon | 3.02 | -1.82 | K2.5IIIaBa0.2 | 303 | 12 10 07 | -22 37 11 |