Circinus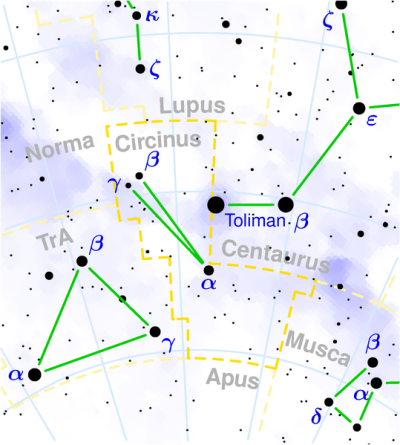 Fig 1. Circinus. © 2003 Torsten Bronger.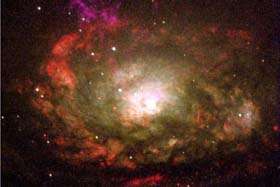 Circinus (abbreviation: Cir), the Compasses, is a very small, faint southern constellation (Fig 1). Its brightest star, Alpha (visual magnitude 3.18; absolute magnitude 2.10; spectral type F1V; distance 53 light-years; RA 14h 42m 28s, Dec -64° 58' 43"), and next two brightest stars, form a narrow triangle that lies east of Alpha Centauri. Two deep-sky objects of interest are Circinus X-1 and the Circinus Galaxy.
Circinus Galaxy
The Circinus Galaxy (Fig 2) is a spiral active galaxy that lies only 15 million light-years away but went unnoticed until 1975 because it lies just 4° from the plane of the Milky Way and is thus heavily obscured. It is the scene of tumultuous gas motions, most of them concentrated in two rings. One, about 700 light-years from the center, appears to be undergoing tremendous bursts of star formation. An inner ring, only 130 light years from the center, almost certainly encircles a massive black hole. The photo shown here was taken by the Hubble Space Telescope.