Ara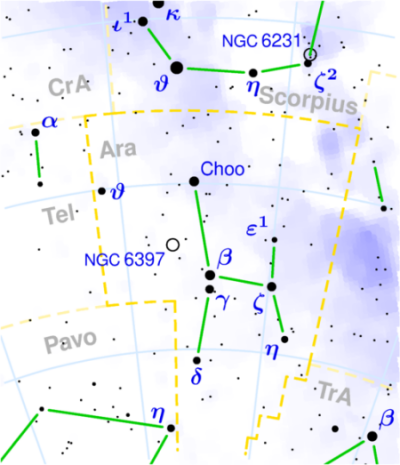 Ara. © 2003 Torsten Bronger.
Ara (abbreviation: Ara), the Altar, is a small southern constellation that is rich in star clusters. See below for details of the constellation's brightest stars and interesting deep sky objects.
Stingray Nebula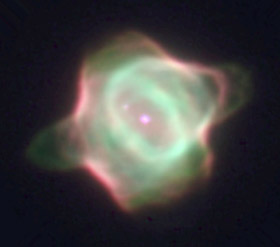 The Stingray Nebula. Hubble Space Telescope image.
---
The Stingray Nebula (Hen 3-1357) is the youngest known planetary nebula and,as a result, one of the smallest. Its diameter is only about one-tenth that of most objects of its kind. It lies at a distance of about 18,000 light-years.
| | | | | | | |
| --- | --- | --- | --- | --- | --- | --- |
| star | vis mag | abs mag | spec type | distance (ly) | RA (h m s) | Dec (° ' ") |
| Beta | 2.84 | -3.50 | K3Ib-IIa | 603 | 17 25 18 | -55 31 47 |
| Alpha (Choo) | 2.84 | -1.52 | B2Vne | 242 | 17 31 50 | -49 52 34 |
| Zeta | 3.12 | -3.11 | K3III | 574 | 16 58 37 | -55 59 24 |
| Gamma | 3.31 | -4.40 | B1Ib | 1,140 | 17 25 24 | -56 22 39 |
| Delta | 3.60 | -0.20 | B8Vn | 187 | 17 31 06 | -60 41 01 |
| Theta | 3.65 | -3.81 | B2Ib | 1,010 | 18 06 38 | -50 05 30 |
| Eta | 3.77 | -1.14 | K5III | 313 | 16 49 47 | -59 02 29 |
| | | |
| --- | --- | --- |
| name | type of object | notes |
| NGC 6193 | open cluster | A good object for binoculars, containing about 30 stars. Magnitude 5.2; diameter 15'; RA 16h 38m, Dec -48° 40' |
| IC 4651 | open cluster | Richer but fainter than NGC 6193 and requires a small telescope. Magnitude 7.1; diameter 12'; distance 3,600 light-years; RA 17h 21m, Dec -49° 54' |
| NGC 6397 | globular cluster | The brightest of three easy globulars in Ara; it can be glimpsed with the naked eye and looks like a misty patch in small instruments. At a distance of about 8,200 light-years, it may be the second closest globular to Earth after M4. Magnitude 5.6; diameter 25.7'; RA 17h 37m, Dec -53° 39' |