Pegasus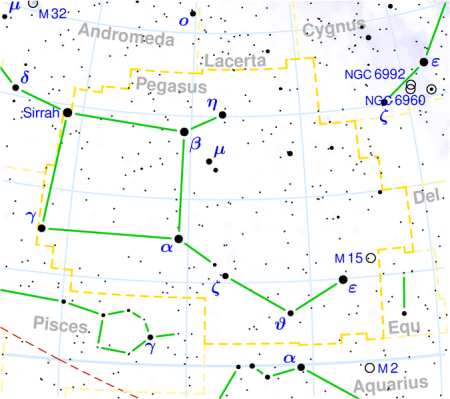 Pegasus. © 2003 Torsten Bronger.
Pegasus (abbreviation: Peg), the Winged Horse, is a large northern constellation. Alpha, Beta, and Gamma Peg, together with Alpha Andromedae (which was originally Delta Peg), form the Square of Pegasus. The most prominent deep-sky object is the globular cluster M15 (NGC 7078), one of the densest of its type and notable for its many variable stars and pulsars (magnitude 6.3; diameter 12.3'; RA 21h 30.0m, Dec +12° 10'). Binoculars and small telescopes show it as a misty patch; telescopes of at last 15-cm aperture resolve individual stars. See below for details of the constellation's brightest stars.
Square of Pegasus
The Square of Pegasus is a large, approximate square of conspicuous stars in an otherwise barren part of the northern sky. Three of the corner-stars, Markab, Scheat and Algenib, belong Pegasus. The fourth, Sirrah, was lost to Pegasus when the constellation boundaries were formalised, and now lies just within the borders of Andromeda.
| | | | | | | |
| --- | --- | --- | --- | --- | --- | --- |
| star | vis mag | abs mag | spec type | distance (ly) | RA (h m s) | Dec (° ' ") |
| Epsilon (Enif) | 2.38 | -4.19 | K2Ib | 673 | 21 44 11 | +09 52 30 |
| Beta (Scheat) | 2.44 | -1.49 | M2.5II | 199 | 23 03 46 | +28 04 58 |
| Alpha (Markab) | 2.49 | -0.67 | B9III | 140 | 23 04 46 | +15 12 19 |
| Gamma (Algenib) | 2.83v | -2.22 | B2IV | 333 | 00 13 14 | +15 11 01 |
| Eta (Matar) | 2.93 | -1.17 | G2II+F0V | 215 | 22 43 00 | +30 13 17 |
| Zeta (Homan) | 3.41 | -0.62 | B8V | 209 | 22 41 28 | +10 49 53 |
| Mu (Sadalbari) | 3.51 | 0.74 | M2III | 117 | 22 50 00 | +24 36 06 |
| Theta (Biham) | 3.52 | 1.16 | A2V | 97 | 22 10 12 | +06 11 52 |
| Iota | 3.77 | 3.42 | F5V | 38 | 22 07 01 | +25 20 42 |